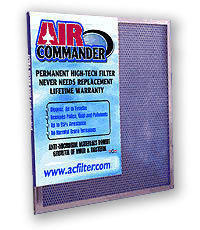 When a homeowner finds out that they can have cleaner indoor air, save money, and help the environment, they see it as a no-brainer
Las Vegas, NV (PRWEB) August 3, 2009
ACFilter.com has recently re-launched their website aimed at health-conscious consumers who are serious about saving money while helping the environment. The featured product on ACFilter.com is the electrostatic air furnace filter.
These washable filters never need to be replaced because they are made from a self-charging material that attracts dust, dirt, and allergens ten times better than the standard disposable air filter commonly found in a home's furnace or air system. The filters are cleaned by vacuuming or rinsing off every 30-60 days.
Homeowners who use these types of air filters enjoy the fact that they are keeping disposable fiberglass filters out of landfills and are saving money at the same time. "When a homeowner finds out that they can have cleaner indoor air, save money, and help the environment, they see it as a no-brainer", said Buddy Rigotti, web marketing manager for ACFilter.com. "For such a reasonable price, we often wonder how we are still finding consumers who don't know this type of product even exists, much less where to get it."
Electrostatic air furnace filters are often sold by HVAC contractors for $100 or more, but ACFilter.com sells them for less than half that, about $40. Most of the major home improvement stores only carry the lower-grade disposable filters, so it can be frustrating trying to find the higher-quality permanent filters. ACFilter.com even offers free shipping as well.
Their air filters are made to order in their 15,000 sq foot, state of the art manufacturing facility. Over 40 standard size filters are available, as well as custom sizes made to any air system's exact specifications. Flexible frame filters are also available for use in systems that require bending the filter to put in place.
ACFilter.com also sells other clean air products such as ozone generators, UVC light air purifying systems, and even dryer vent alarms which help reduce the risk of clothes dryer fires. The company just recently celebrated its 30 year anniversary.
For more information, visit ACFilter.com.
###