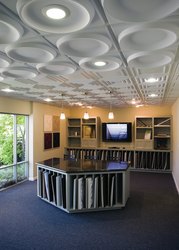 We are excited to offer customers an up-close look at our tiles and are confident that once customers experience our product in person, they will be impressed by the overall quality and ease of use
Graton, CA (PRWEB) August 3, 2009
Ceilume, manufacturer of The Smart Ceiling Tile, today announced the grand opening of its flagship showroom in Windsor, Calif. Occupying a fully remodeled 1,500-square foot facility, it is the country's first retail showroom dedicated exclusively to ceiling tiles. Ceilume tiles are manufactured from specially formulated recyclable vinyl material, making them incredibly lightweight and easy to install in suspended ceiling, grid mount, direct mount and refacing applications. Ceilume is also the first ceiling tile to ever receive GreenGuard certification for both indoor air quality as well as the very stringent Children and Schools approval.
The new showroom offers ceiling tiles in more than 40 styles and six colors, with several installation examples including fully illuminated ceilings, ceiling light diffusers and decorative strips / grid covers for suspended T-bar grids. Showroom visitors can test and compare Ceilume's tile varieties with an easy-to-use interactive grid. Customers simply pop a tile into the drop ceiling demonstration grid to view their style and color choice in an actual ceiling setting. The company is also offering free samples and free ground shipping on all orders placed online or in the showroom.
Ceilume's ceiling panels are very affordable (only $1-2 per square foot) and incredibly easy to install, making them a simple, low-cost way to revamp the entire look of any room in residential, commercial or hospitality settings. The company offers both direct mount and drop ceiling tiles that can be painted to match any existing color palette. Once installed, they create the look and feel of much heavier tin or mineral fiber tiles, but without the added maintenance, inconvenience and additional cost.
Ceilume's feather-light design uses far fewer resources to manufacture and ship compared to standard tiles and the material is 100% locally recyclable. The tiles are especially ideal for kitchens and bathrooms because they are unaffected by water or moisture, do not harbor any smells, mold or bacteria and are easy to clean. Ceilume tiles are also Class 1 Fire Rated, resist sagging and staining, and are eligible for potential LEED credits.
"We are excited to offer customers an up-close look at our tiles and are confident that once customers experience our product in person, they will be impressed by the overall quality and ease of use," said Ed Davis, president of Ceilume. "Our company is continuing to grow and we are fortunate to launch our flagship showroom amidst this time of economic uncertainty in the remodeling industry."
The Ceilume Showroom is located at 7755 Bell Road in Windsor and is open Monday through Saturday from 8:00 a.m. to 4:30 p.m. For more information regarding Ceilume, its ceiling tile products or the new showroom, call 1-800-521-4261 or visit http://www.ceilume.com
About Ceilume
Located in Graton, California, Ceilume is an international manufacturer of vinyl, decorative, ceiling tiles. Debuting in the 1950s amidst the post-war wave of modern interior design, Ceilume ceiling tiles have been used around the world for more than 50 years and have grown in popularity with the e-commerce boom and recent demand for eco-friendly products. Tastes and styles have evolved over the decades, and Ceilume has evolved with the times, still offering the great products and customer service that have been their hallmark for half a century. Ceilume Smart Ceiling Tiles is family owned and prides itself on supporting its community, encouraging sustainability and being a good workplace for its employees. For more information, please call 1-800-521-4261 or visit http://www.ceilume.com.
###