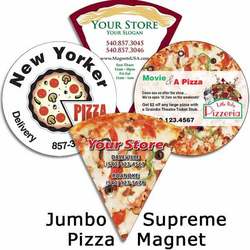 The calendar is filled with Big Money Days for Pizzerias
Roanoke, VA (Vocus) August 3, 2009
Big Money Pizza Days are approaching fast. Pizza Fridge Magnets will remind customers to call you when holidays and game days become hectic and they don't want to cook.
"The calendar is filled with Big Money Days for Pizzerias," says Robert Lusk, Marketing Manager for Magnets USA®. "Labor Day weekend, Halloween, and the day before Thanksgiving are all good examples. There's also the Christmas season that involves house parties, and of course, New Year's Eve. Can you really have a Super Bowl Sunday, the Daytona 500, or the Final Four without pizza?"
"Sometimes all you need is a Pizza Fridge Magnet to get customers to call," says Lusk. "But, you have to plan now and order early. Pizza Fridge Magnets have to be in place now to build awareness in order to work on Big Money Pizza Days."
Magnets work because refrigerators are excellent billboards- everyone uses them. When you give customers a Pizza Magnet, they will stick it on the refrigerator and see it every day. Try a Custom Coupon Calendar Magnet that is business card sized for easy distribution and allows pizzerias to create a special for each month of the year. Pizza Fridge Magnets and Jumbo Pizza Magnets are striking in round shapes, pizza slice shapes and business card sized magnets. Pizza Calendar Magnets are also great because customers will use them frequently as they are making plans throughout the year. Pizzerias can also create enticing coupons and specials on Magnetic Cards and Magnetic Coupon Mailers. Make your pizzeria memorable with a Magnetic Memo Board that is of high customer value.
Now is the perfect time to try Pizza Magnets from Magnets USA®. In August only, all Pizza Magnets are offered with free shipping. Check us out at http://www.MagnetsUSA.com/pizza or call 800.869.7562 to find out how you can set up a customized Pizza Magnet with your Big Money Days. Or, to see our top quality products in person, visit us at the Orlando Pizza Show, September 11-13 at booth 2606.
About Magnets USA®
Magnets USA, Marketing You Better® with affordable, top quality, personal marketing magnets that come with a 100% Quality Guarantee. Our Roanoke, Virginia based company manufactures 100% Made in America flexible magnetic products, keeping customers' costs at a minimum and the final product's quality at a superior level.
For more information about Magnets USA®, its products and other FAQs, visit the company's website, http://www.MagnetsUSA.com, or call 800.869.7562 to speak with a knowledgeable and friendly Customer Service Representative.
# # #