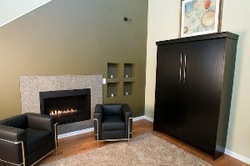 These beautiful Murphy beds from The Bedder Way Co. allow you to gain back useful space and still continue to provide a comfortable night's sleep for your guests.
Franklin, NC (PRWEB) August 1, 2009
Jill Van Hoogen, owner of Custom Closet Connection, recently added The Bedder Way Co.'s line of real wood Murphy beds, storage cabinets, and home office systems to her growing list of products. Adding this product line prompted Mrs. Van Hoogen to open a showroom at the Rusty Wagon Design Center which is located at 1281 Georgia Road in Franklin, NC.
Already recognized as the local authority on custom closet systems and home organization, Murphy beds allow Mrs. Van Hoogen to offer her customers more unique solutions to their space problems. Whether it is a seldom used bedroom or an existing home office, Murphy beds and accessories give you an attractive, functional, and flexible option for hosting overnight guests. "You can turn a seldom used spare bedroom into a stunning home office or well-designed hobby room," commented Mrs. Van Hoogen. "These beautiful Murphy beds from The Bedder Way Co. allow you to gain back useful space and still continue to provide a comfortable night's sleep for your guests."
Although the concept of the Murphy bed is not new, their use has fluctuated over the years. This was due in part to the bland designs and difficult installation of the antiquated systems of the past. Even today, many companies still offer these outdated systems and dull designs. However, the Bedder Way Co. line of Murphy beds has conquered these concerns and has become recognized as one of the most attractive and user friendly Murphy beds in the United States.
"Customers who choose The Bedder Way Co. do so because they recognize the quality of hand finished, all wood furniture, the ease of our installation, and our industry leading home delivery service," says Chris Fahy, National Sales Director for The Bedder Way Co. "And we strive to be recognized as a leader in terms of environmental and resource consciousness. We build all of our products using Green-T® furniture grade plywood and solid wood moldings in lieu of particle board and melamine like many of our competitors. Our coatings are free of H.A.P.S. (hazardous air pollutants) and our plywoods are sourced from sustainable forests."
About Custom Closet Connection
Located in scenic Franklin, NC, Custom Closet Connections, designs, builds, and installs custom closets, Office Suites, Murphy Beds, pantries, wine cellars, garage and laundry storage solutions, and much more. Offering a wide selection of finishes, accessories, and hardware, Custom Closet Connections can satisfy your design and decorating preference.
About The Bedder Way Co.
Since 2000, The Bedder Way Co. has been building real wood, handcrafted Murphy beds and accessories. With fifteen individual Murphy bed designs, eleven unique stain colors, and seven side cabinet options, every taste can be satisfied. All pieces are made to order and all designs are available in oak or maple wood along with several decorative hardware choices for each design. A complete line of coordinating home office cabinetry is also offered. Bedder Way Co. products have been featured on the HGTV® show "Find Your Style" and more recently on the hit ABC® show "Extreme Makeover: Home Edition".
###