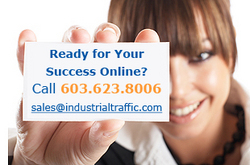 honest business doesn't' change, no matter where you do it--on the web or not.
Hooksett, NH (PRWEB) August 4, 2009
The old saying goes, "You get what you pay for," and the people at Industrial Traffic, a web design and internet marketing company in New Hampshire, couldn't agree more.
"We're putting ourselves out there because we think that's the only way you can really do business effectively--to be honest, open, and professional, especially when the internet can bring some pretty dishonest business right to your doorstep," says President, Michael St. Laurent.
Over the years, Industrial Traffic has built and optimized websites for companies across the country. Unfortunately, that professional design and search engine optimization has sometimes been in vain when those same companies decide to get Website Hosting elsewhere.
St. Laurent says, "You wouldn't trust a free car to take you very far, and it's the same for website hosting" He explains that when it comes to the internet, website hosting is a big business--and too many free and cheap services can count on small businesses to fall for unreliable service that could result in "Significantly reduced sales, extensive downtime, and a whole lot of stress and uncertainty." When asked about reliable email, power outage protection, and security, St. Laurent said, "You can't even expect that from free hosting."
Ultimately, when it comes down to web services in general, St. Laurent reminds businesses that there's an honest way to do things and a dishonest way, hinting that it may simply be just the way the internet works, but "honest business doesn't' change, no matter where you do it--on the web or not." As for Website Hosting, St. Laurent adds, "With the daily growth of the internet, sometimes you never know what you're getting yourself into, so we try to be one of the ones that leaves all the cards on the table…you get what you pay for."
Located in New Hampshire, Industrial Traffic is a web design, development, hosting, and marketing company that's served businesses across the country. For more information, visit http://www.industrialtraffic.com or call 603.623.8006
###