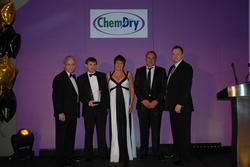 Northampton, UK (PRWEB) August 2, 2009
Northampton based independently owned and operated franchise business Chem-Dry Professional, have every right to be celebrating, after recently winning the prestigious Chem-Dry UK Franchise of the Year 2009 Award. This award was presented at Chem-Dry's annual glitzy convention in York and rewards outstanding business performance.
The award recognises outstanding excellence across numerous business disciplines such as business planning, customer satisfaction, marketing and upholding Chem-Dry franchise traditions and values.
All members of the UK Chem-Dry network are considered for this coveted award and with over 170 franchises and 900 franchise licences in the UK, there are plenty of worthy candidates and the winner is always held in high regard by other Chem-Dry franchises. This accolade is selected, from four regional UK winners and each regional winner battles it out to be crowned Chem-Dry Franchise of the Year. David and the Professional team faced some stiff competition and are deserved recipients of a cash prize and a trip to Chem-Dry's international convention in 2010.
Dave Parker, Proprietor of Chem-Dry Professional, comments "I am delighted that the UK Chem-Dry Master Franchise have recognised and rewarded our efforts this year. There is a sense of togetherness with the Chem-Dry UK network and there is a real knowledge sharing culture. We are lucky to have some dear friends within the network. Recently the business has grown and developed resulting in moving premises, investing in 2 CTS 330 Truckmount upholstery & carpet cleaning systems and expanding our business into the Home Counties region. These changes have given the business some much needed momentum and impetus and we haven't looked back since. To say I am surprised and delighted with this award would be an understatement".
Mark Galsworthy, Director of Franchising, comments "On behalf of the UK Chem-Dry Franchise Network, I would like to take this opportunity to congratulate Dave & the Professional team on a fantastic achievement. The Chem-Dry Professional team are great role models for other aspiring franchises, they exemplify what Chem-Dry is all about working tirelessly hard on behalf of the Chem-Dry network, continually striving for improvement and always willing to mentor new franchise members. Chem-Dry Professional has successfully expanded their domestic & commercial side of their business and continues to provide pro-active response to disaster restoration jobs. This award is thoroughly deserved and I believe they will carry on the great tradition of previous Chem-Dry Franchise of the Year's winners in helping to improve standards within the industry".
Chem-Dry Professional became part of the Chem-Dry national network in 1994 and is an independently owned family based business operated by David & Sandra Parker. The domestic and commercial carpet and upholstery cleaning business is managed daily by General Manager John Park and has evolved through the provision of exceptional service to both their domestic and commercial customers from various parts of Northamptonshire, Buckinghamshire, Bedfordshire & Oxfordshire.
David Parker davechemdry@btconnect.com
Chem-Dry Professional
11 North Portway Close Tel No: 01604 645666
Round Spinney Industrial Estate Fax No: 01604 647999
Northampton,
Northamptonshire, NN3 8RQ
Notes to Editor
Chem-Dry® at a glance http://www.chemdry.co.uk
Chem-Dry Professional is part of the Chem-Dry® franchise network, which serves 28 million homes. With over 750 licences you are never far away from your local Chem-Dry®.
Chem-Dry Professional has been trading since 1994
Chem-Dry Professional is a locally owned family business
Chem-Dry Professional has won several Chem-Dry awards - Chem-Dry Ambassador of the Year 2007 & Chem-Dry Service Franchise of the Year.
Chem-Dry Professional holds 11 licences, covering the regions of Northamptonshire and parts of the Home Counties.
Chem-Dry® was established in the UK in 1987. Its Yorkshire-based national service centre with 210 staff now supports a network of 750 franchise licences
In April 2005, Chem-Dry® in the UK became part of the Homeserve plc group of companies.
For further information on Chem-Dry Professional, please contact David Parker on Tel No 01604 645666 or Mark Richardson on Tel no 01482 888195.
###