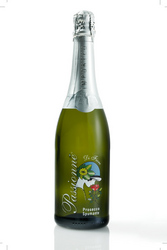 Great Neck, NY (PRWEB) August 1, 2009
Classic Marketing, Co., P.R. has recently introduced the newest addition to the family - Passionné di Fiore Prosecco Spumante! It is dry, lemony, and bubbling, is Italy's answer to refreshing, Vin Mousseux De Qualite. Created from 100% prosecco grapes in the northern Veneto region of Italy in the foothills of the Alps, Prosecco is light, affordable, and fun.
Currently available in the tri-state area, Passionné has a well-balanced combination of alcohol and fruit that is just right in terms of sweetness and fruitiness. Excellent for mixed drinks - Fragoli Passion is a must try.
Fragoli Passion
1 oz. Fragoli Wild Strawberry Liqueur
4 oz. Passionné
Mix directly in a flute and garnish to your taste
Joseph Ballin, president of Classic Marketing, Co., P.R. has just signed a multimedia ad schedule to maximize the exposure of Passionné. The product is available in a 375ml and 750ml bottle. Since its launch, digital CPM has increased 66%.
Passionné will be launching http://www.passionne.biz in August to provide its consumers access to an online purchasing source as well as a nationwide retailer search. In order to keep up with the ever-changing social trends, you can follow Passionné on Facebook and Twitter for up-to-date news and events.
Contact:
Joey Ballin
(516) 353-6515
joey.ballin(at)gmail.com
###