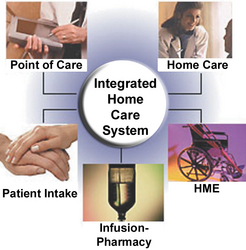 This offers the provider one fully integrated system that meets all of their needs
Plainview, NY (Vocus) August 1, 2009
Expecting to fill a major need in the Home Care industry, FASTRACK HEALTHCARE SYSTEMS announced today the availability of the first integrated DME Billing, Infusion Pharmacy Billing & Home HealthCare Agency Billing Software System. The FASTRACK Integrated IV, HME and Home Care Agency Solution is a Windows and ASP.NET developed product with a single common Microsoft SQL database that allows for the connection of remote sites via the Internet utilizing Citrix Metaframe or Microsoft Terminal Services.
According to Spencer Kay, President of FASTRACK, "We are finding a large number of operations providing Home Medical Equipment, Durable Medical Equipment, Home Care Agency and Infusion services and products, that up until now have been forced to use three or more systems. Since many of their patients are the same, this has resulted in dual entry of data, the inability to produce one statement for both HME, Home Care and IV, three separate sets of financial and operating reports, and the need to deal with three or more different software support teams. The Integrated FASTRACK System eliminates all of this, making the company more efficient, allowing for cross training of employees between all three product/service lines."
The FASTRACK Integrated DME, IV billing software offers a centralized patient intake screen that allows for the ease of capturing a new patient and transferring the information to the appropriate HME, Home Care Agency or Infusion Therapy personnel or branch.
The product offers all the features necessary to manage the operational, financial, and clinical aspects of each segment of the providers business. Standard features include Patient Orders, Scheduling, Inventory Control with serial, asset, & lot number tracking, Equipment maintenance, Bar coding, A/R Cash Receipts, CMN/RX entry and tracking, Care Plans, Nurses Notes, Compounding Records, Drug Interaction and allergy checks, patient education sheets, and much more. Optional features include the Crystal Report Writer, a business intelligence tool, integration to third party payroll and general ledger systems, bar coding, cellular PDA to automate deliveries, EDI On-Line purchasing, Web Portal, Internet StoreFront and many additional technology offerings.
"This offers the provider one fully integrated system that meets all of their needs," added Kay.
For further information contact FASTRACK HEALTHCARE SYSTEMS, INC; 255 Executive Drive, Plainview, NY 11803, Tel: 1-800-520-2325, Fax: 1-516-349-8875. Email: info(at)fastrk(dot)com or visit their web site: http://www.onlyfastrack.com.
# # #