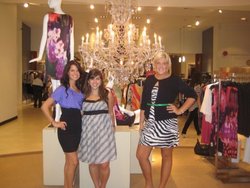 New York, NY (PRWEB) August 2, 2009
iOffer-- Want to get the latest styles without a stimulus package to pay for it? Turn to iOffer, the wildly popular shopping site for the best dressed and fashion-obsessed. While weathering today's economy, fashionistas are turning into into recessionistas - without compromising style. Maintain the look of luxury without breaking the bank. Enter the cyberfashion world of iOffer, home of affordable but chic handbags, sunglasses, jewelry and accessories. iOffer can be your retail therapy so you can rock the recession in style.
There are few names as synonymous with the latest fashion as iOffer. Girls are sick of the hassle of online auctions. They want the latest designer styles and instant gratification by shopping at iOffer, the secret weapon for glamorous girls from the Upper Eastside to Hollywood. Buying handbags, jewelry, designer jeans and watches at iOffer gives you VIP access to the latest of-the-moment fashion trends. When you want a designer look from head to toe without filing for Chapter 11, iOffer has you covered. When you shop iOffer, it's easy to create celebrity looks that are as hot and edgy as they are effortless. Trendy looks shouldn't be reserved for the rarefied world of the rich and famous. You can be from the heartland and look like your favorite Hollywood icon when you visit iOffer.
It's the style secret that fills the closets of the hippest girls in town. Fashionistas go to iOffer for exclusive looks that stop others dead in their tracks. If you're addicted to handbags, iOffer is truly the hottest ticket in town. If you crave Canal Street couture, iOffer gives you the look of luxe for less. Wondering where to find a fabulous burnished silver leather bag? A metallic hobo? Mile-high skyscraper heels? A feathered headband? An edgy little black dress? iOffer makes it easy to get boho chic without blowing your budget. You don't have to be a multi-millionaire to look fabulous from head to toe when you shop at iOffer.
iOffer is a recessionista's paradise. This handbag heaven is bargain bag hunting made easy. Get an A-list look for less at iOffer.com. Recession-proof your wardrobe with iOffer. Get your bling bling without the cha-ching. For media inquiries, contact Robin Kassner at Haute PR at (917) 388-3494 or hautepr(at)gmail.com.
###