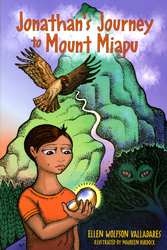 It is incredibly thrilling to receive these awards but of course, the true thrill is the response from readers, both children and adults
Weston, FL (PRWEB) August 12, 2009
Jonathan's Journey to Mount Miapu, an enchanting tale of a young Florida boy who is transported to a mystical mountain paradise, is not only captivating young readers but also garnering recognition from industry experts.
"It is incredibly thrilling to receive these awards but of course, the true thrill is the response from readers, both children and adults," Valladares says. "I think the appeal is that everyone can relate to Jonathan's journey on many levels, whether it is about facing their own fears, discovering their unique gifts and talents, or learning to believe in the magic of the universe."
The debut novel by author Ellen Wolfson Valladares recently was named:

A Mom's Choice Awards Gold recipient for Juvenile Fiction
Finalist, ForeWord Magazine Book of the Year Award, YA Fiction category
Winner, COVR Visionary Awards, Children's Books category
COVR (Coalition of Visionary Resources) Visionary Awards Book of the Year
The novel, geared toward eight- to twelve-year-olds, follows the adventures of Jonathan Goodman, a ten-year-old boy who has an intense fear of the dark and feels different from other kids his age. When Jonathan gets lost on the strange Mount Miapu, a mysterious Eden-like place where people can accomplish the miraculous and read each other's minds, he just wants to find his way home. But Mount Miapu is in danger of being engulfed in irreversible darkness, which Jonathan meets head on. While grappling with the dangerous Vortex of Senkrad and fending off a malicious talking tiger that aims to thwart his efforts, Jonathan not only finds the courage to face his greatest fears but also discovers he has special abilities that help him see himself and the world in new ways.
###