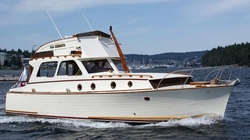 Seattle (PRWEB) August 3, 2009
Don't let the best summer in living memory pass you by without getting out on the water. After a hiatus of four years due to the renovations at Shilshole Bay Marina, the Seattle Boat Show is returning beginning Thursday at noon. Seattle Boat Show Buy a boat at the show and there's still at least two months of summer boating weather to enjoy. There will be 200 new and pre-owned boats - ranging from 14 to 74 feet in length - to choose from, plus an accessory tent full of gear and electronics. That, combined with dealers not wanting to go into the winter months with excess inventory, means plenty of opportunity for good deals for the first-time boat buyer or those wanting to trade up.
Other attractions at the show include:
Tour the real S.S. Minnow from Gilligan's Island. Ironically, the boat has now been shipwrecked twice, once in the TV series and once in real life. A previous owner was taking the boat down the coast from Alaska when the boat ran aground during a storm on a reef in northern British Columbia. One of three used in the show, it was recently completely renovated and now calls Nanaimo, B.C. home. Showgoers can also enter to win a three hour cruise aboard a Duffy Electric Boat for 10 people on Lake Union.
Free 90-minute sailboat rides. There's no catch, no sales pitches involved, no fancy qualifying requirements, it is pure and simply an idea the Seattle Boat Show organizers came up with to expose people to the fun of sailing. Space is limited - first come, first serve. You must check-in at the Discover Sailing booth at least 15 minutes prior to departure time. Life jackets are provided. See Free boat rides schedule for a schedule of departures.
Most unusual boat at the show: an amphibious 20' dinghy that can top 60 mph on the water. It has three wheels and goes from land to water and vice versa with the simple push of a button. It could be straight out of a James Bond movie but it's actually the perfect boat for exploring our northwest islands and beaches. Great as a tender for bigger boats or as a small runabout. It allows you to avoid all those messy, wet beach landings, trying to hold the dingy in the waves/surf while unloading people or gear. You can drive right up out of the water and to the beach or parking lot to unload all your gear.
Biggest boat at the show: 74-foot Yacht Fisher built locally in Hoquiam, WA. Named the best YachtFisher of 2009 by Pacific Coast Sportfishing Magazine. Gorgeous interiors, large bait tanks and all of the fishing features that the most serious deep sea fisherman requires.
Live music every evening: tropical rock and steel drum music
Thursday: Dave Calhoun 4-8 pm
"Tropical Rock" music in the style of Jimmy Buffett. Music with an attitude of "toes-in-the-sand-Margarita-in-my-hand."
Friday and Saturday: Fahrenheit Steel 5-8 pm
Sunday: Fahrenheit Steel: 3-6pm
Buy an e-ticket at Seattle Boat Show E-tickets and receive a free cup of clam chowder at Ray's Café on Shilshole, plus a $15 off coupon at West Marine.
Details of the Seattle Boat Show at Shilshole Bay Marina
Hours:
THURSDAY & FRIDAY: Noon - 8 pm
SATURDAY: 10 - 8 pm
SUNDAY: 10 - 6 pm
Tickets: Adults = $10.00
Youth (ages 11-17) = $5.00
Children (10 and under) free.
Sponsors: The Seattle Boat Show at Shilshole Bay Marina is sponsored by ACE Recreational Marine Insurance.
Produced by: Northwest Marine Trade Association. The NMTA represents over 750 companies in the recreational boating business, including boat dealers, boat brokers, marinas, boatyards, boat and boating accessory manufacturers, retailers and suppliers of boating accessories and services. For more information, visit http://www.nmta.net.
# # #