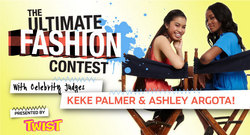 Twist is a perfect fit for the Ultimate Fashion Competition because, like Established Today, we live at the intersection of celebrity and fashion. Twist is excited to bring this concept to our readers because we know it's one they'll respond to - the chance to be able to express their creativity and maybe become a
New York, NY (PRWEB) August 3, 2009
Established Today (http://www.estToday.com), the New York City-based fashion company that gives girls the power to design and buy their own apparel, announces an exciting collaboration with Keke Palmer and Ashley Argota from the hit Nickelodeon Show True Jackson, VP as they serve as celebrity judges for the new Ultimate Fashion Contest presented by Twist magazine. In this online fashion competition, girls will be creating original T-shirt designs on the estToday.com website for the chance to become Featured Designer for Established Today's Spring 2010 Collection, plus an opportunity to appear in a future issue of Twist magazine.
As stars of True Jackson, VP the number-two program Saturday nights with kids and tweens on all of broadcast and cable television, Keke Palmer and Ashley Argota are two of teens' biggest stars in the entertainment and fashion worlds. As the presenting sponsor for this exciting contest, Twist magazine (part of the Bauer Teen Group) will be promoting the Ultimate Fashion Contest across their collection of digital spaces designed to reach celebrity-obsessed teen girls everywhere.
For the 2009 Back to School season starting on August 3rd, girls up to the age of 18 are invited to sign on to http://www.estToday.com and http://www.twistmagazine.com to start designing their entries (plus have the ability to purchase their original design just in time to wear for back to school). Established Today's online design tool will make it fun and easy for girls across the country to enter this one of a kind fashion competition. On September 15th, based on voting from the general public, 20 semi-finalists will be selected to have their designs judged by Keke Palmer and Ashley Argota. These 20 semi-finalists will be featured at http://www.estToday.com; Keke and Ashley will judge their designs and announce the winner on October 1st!
Celebrity Judge Keke Palmer said, "I am so happy to help find the next young artist who has the potential to be a great designer. I can't wait to see the amazing designs from all of the contestants as they showcase their own personal style. I remember how excited I was the first time I got to appear on the pages of Twist magazine, and for us to be able to now offer that chance to one of our talented fans is incredible!"
Celebrity Judge Ashley Argota said, "I love wearing the newest, most comfortable and flattering fashions whenever possible. Feeling great in what I wear helps me achieve my dreams. Keke and I can't wait to see the submissions from all of our fans who love True Jackson, VP, and offer one lucky person the chance to be a real-life fashion designer through the Ultimate Fashion Contest presented by Twist magazine.
Just for entering, two lucky contestants will be chosen to receive either an autographed photo from the cast of True Jackson, VP or the jacket worn by Keke Palmer at the fashion shoot for the contest. As part of the prize package, all 20 semi-finalists win a limited edition Established Today & Twist logo T-shirt. The winning designer will receive:

Title of Featured Designer for Established Today's 2010 Spring Collection that will include her own line of digital designs.
An appearance in a future issue of Twist magazine to kick off her own line of digital designs for Established Today's 2010 Spring Collection.
Autographed copy of the winning T-shirt design and autographed photo of Keke Palmer and Ashley Argota.
For this contest, the designs are limited to T-shirts. However, Established Today anticipates future contests will include other types of clothing. Parents shopping for back to school for their young designers will be glad to know that the average price for an original designed T-shirt on Established Today is only $22 and they offer a 100% satisfaction guarantee.
"To date, fashion design contests have been limited to reality shows, where only a few designers compete and where millions of viewers can only watch," said Established Today CEO, David Cote. "The Ultimate Fashion Contest presented by Twist is about finding the next generation of creative fashion designers from among the millions of teen girls in the US. I can't think of two more stylish judges than Keke and Ashley to help us to find the next great designer."
Ryan McConville, the Publisher for the Bauer Teen Group, stated that "Twist is a perfect fit for the Ultimate Fashion Competition because, like Established Today, we live at the intersection of celebrity and fashion. Twist is excited to bring this concept to our readers because we know it's one they'll respond to - the chance to be able to express their creativity and maybe become a "celebrity" in their own right. Designing a clothing line for themselves and for their friends and competing for a chance to impress Keke Palmer and Ashley Argota - it's like a dream come true for our audience."
The Ultimate Fashion Competition presented by Twist kicks off on August 3, 2009 for a truly new event for Back to School season!
About Established Today
Established Today (http://www.estToday.com) is the #1 fashion design contest site on the Internet. The company gives girls the artistic license to create exciting fashion designs, enter fashion design contests and to bring their fashion vision to life by ordering their designs. Established Today was founded by husband-and-wife team, David and Christine Cote, who encouraged the design ideas of their own 13-year old daughter, and created an outlet for other creative girls to interact with their designs online. Established Today includes a senior management team with experience in web development, merchandising and business. The company has a singular mission to become the first collaborative fashion company for girls. The company is a subsidiary of Make It My Own Inc., based in Long Island City, New York.
About Keke Palmer
In addition to Palmer's first starring role on television in Nickelodeon's new series, True Jackson, VP, she can be seen opposite Kevin Spacey and Robin Williams in the recently released film Shrink. Already in the first season of True Jackson, VP, Palmer won her second NAACP Image Award for Outstanding Performance in a Youth/Children's Program for her role as True. She was also nominated for a Screen Actors Guild Award in 2005 for her performance in The Wool Cap. Palmer has also co-written and sings the True Jackson, VP opening song. Palmer's breakthrough performance was starring as the title character in the Lions Gate Films/Starbucks Entertainment sleeper hit Akeelah and the Bee, opposite actor Laurence Fishburne and Angela Bassett. She has also performed songs on the soundtracks for "Akeelah" and "Night at the Museum" soundtracks, and on her solo CD, "So Uncool".
About Ashley Argota
Argota plays vibrant and eccentric Lulu, True's best friend and trusty assistant on Nickelodeon's True Jackson, VP. A young actress and singer raised in Redlands, CA, Argota has been performing since she was two years old. She was the youngest performer to win the "Amateur Night at the Apollo" five consecutive times, and also performed in "The Lion King" and on stage at the MGM Grand. In addition to her role on True Jackson, VP she has guest-starred on the iCarly TV show.
About Bauer Teen Group
In addition to Twist, the Bauer Teen Group consists of J-14 and M magazines. Collectively, they are the #1 selling teen celebrity magazines in the country, as well as the best-selling magazines at all major retailers, including Wal-Mart, Target, Rite Aid, Walgreens, etc. Online, the Bauer Teen Network (BTN) has grown by more than 300 percent since its launch in September 2008, and currently reaches close to one million unique visitors each month. BTN properties include celebrity fan sites http://www.j-14.com, http://www.twistmagazine.com, http://www.mmm-mag.com , and http://www.4tnz.com, as well as a vast social network consisting of fan sites, Facebook and Myspace pages, and celebrity Twitter accounts. In print and online, the Bauer Teen Group reaches over 6 million girls in the US every month. Bauer Teen Group is part of Bauer Publishing, the #1 seller of newsstand magazines in the US.
# # #