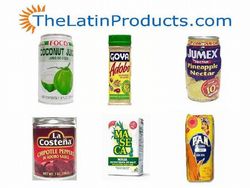 Acworth, Ga. (PRWEB) August 3, 2009
It is often during a slow economy when consumers and business owners get the most creative to survive and to find the lowest price of Mexican food, Latin food, Latin Products and Mexican products online. TheLatinProducts.com is a new nationwide online Latin store for authentic Mexican food, Latin food, Mexican products and Latin Products. Today, they offer more than 300 specialty Latin food and Mexican food from imported and national leading brands like Goya, La Costena, Jumex, Nestle, D'Gari, Maseca, La Preferida, Dona Maria and Gamesa just to name few of them.
TheLatinProducts.com performs the fulfillment of Mexican products and Latin Products in its distribution center located in Georgia and USPS/FedEx ensures expedient, reliable delivery of all orders nationwide. The best selection and low price provide a rich resource for consumers, chefs, Latin restaurants, and small to medium size Latin grocery stores.
TheLatinProducts.com streamlines the shopping process by eliminating the difficulty of having to drive to multiple stores in search of authentic Latin food, Mexican food, and Latin products not commonly in stock at conventional grocers. This exceptional concept is available at one user online friendly location, offering secure shopping, complemented by rapid and reliable delivery services directly to your home, office, business or military base.
TheLatinProducts.com offers over 300 Latin products and Mexican products online, but they also have over 1800 Latin American products, and Mexican products they can offer to any small to big size Latin store, Mexican store, and Latin restaurant.
From August 3 to September 4 is the right opportunity to take advantage of the 10% Discount on every order. Just use coupon code "augsep40" and start saving money. This Latin online store already provides the lowest price word wide web, so why not to take advantage of this special offer.
In fact, there are only 2 things you need to know when shopping at TheLatinProducts.com. They offer the best deals by making the lowest price promise and keeping their promise.
For more information about TheLatinProducts.com and to get the complete list of over 1800 Latin American products available, or to start ordering your favorite Latin food or Mexican food online, please visit their website or call them at 1-800-694-8344
###