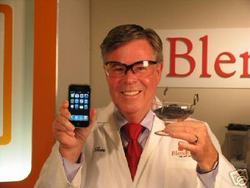 Will it blend? That is the question.
San Francisco, CA (PRWEB) August 3, 2009
YouTube and Video Marketing: An Hour a Day by Greg Jarboe, which will be published August 17, 2009, tells how "Will It Blend?" increased Blendtec's sales 700%. George Wright, Blendtec's vice president of marketing and sales, a complete, shares the details of his success story in Jarboe's complete, task-based guide to developing, implementing, and tracking a video marketing strategy.
In Chapter 11 of the new book, Wright tells Jarboe the story of Blendtec, a small, Utah-based manufacturer that makes highperforming, durable blenders for commercial use and a newer line of home appliances. Wright created a YouTube and video marketing campaign called "Will It Blend?" Wearing a white lab coat and safety glasses, Tom Dickson, the company founder, takes everything but the kitchen sink, sticks it in a blender, and says, "Will it blend? That is the question." While the item is blended, he smiles and waits for the process to end. When it does, he empties out the contents, and the subtitle "Yes, it blends!" appears.
Wright tells Jarboe, "Before joining Blendtec, I handled PR at a steel mill and marcom for a major pump and valve manufacturer. My budget was huge at these other companies. But that was different at Blendtec, which had a wonder product but no marketing. However, we did have a video producer and equipment already to create instructional videos for our commercial customers. Then I happened upon owner Tom Dickson feeding a 2×2-inch wooden board into a commercial blender as part of a destructive test and found it fascinating. I thought that others might get a kick out of watching the process, and the idea for creating a video was born. I wrote a marketing strategy entitled 'Blending Marbles.' Then…I spent $50."
Wright adds, "I'm always blown away by 'Will It Blend? - Marbles.' That was the question I asked in my original marketing strategy. We put a bag of 50 marbles into a Blendtec blender. And yes, it blends! Blending a dozen glow sticks was also fun. When we turned the lights off for effect, our 12-hour lantern was engaging."
Some of the best videos Bledtec has done to date are in the playlist in its YouTube channel, including, "Will It Blend? - iPhone," which has more than 7 million views. According to Wright, this new form of marketing has delivered a 700% increase in sales for Blendtec. The company has also used YouTube and video marketing in the past year to transform itself from being focused on business-to-business to being focused business-to-consumer sales.
Published by Wiley, YouTube and Video Marketing: An Hour a Day goes on sale on August 17, 2009. This 504-page guide provides extensive coverage of keyword strategies and video optimization, distribution and promotion strategies to other sites and blogs, YouTube advertising opportunities, and crucial metrics and analysis. For more information about the paperback book or to read excerpts of Chapters 1 and 11, go to http://www.wiley.com/go/youtubehouraday.
Among the people providing advance praise for Jarboe's new book is Jim Louderback, CEO of Revision3. He says, "Sure you've heard about SEO, but what do you know about YTO? YouTube optimization is a brand new science, and almost no one knows more about it as Greg Jarboe. The quirky, revolutionary YouTube is nothing like Google - even if they are part of the same company. But with this book, you can now learn how to optimize - and get the most out of - YouTube. The internet is going video, YouTube is synonymous with video on the internet, and now with this book you've got everything you need to profit from these megatrends. Congratulations to Greg Jarboe for making such a complex topic easy to understand, and actionable as well!"
###