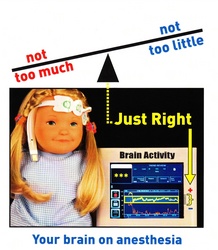 Nonetheless, had a brain monitor been measuring Mr. Jackson's response to the drug, it would have been harder to give him a big enough dose to make him stop breathing which would lead to his heart stopping
Corona del Mar, CA (PRWEB) August 4, 2009
Dr. Barry Friedberg, developer of PK, propofol ketamine anesthesia, was cited in the August 10th issue of People Magazine as the anesthesia expert who stated in the article that propofol is extremely safe if a brain monitor is used.
Millions of people have safely had propofol for their colonoscopy and other endoscopies without brain monitoring, primarily due to the short time involved in those procedures.
Cosmetic surgeries typically average two or more hours compared with endoscopies at about twenty minutes.
"Brain monitoring greatly increases the safety of propofol for cosmetic surgery with propofol," says Dr. Friedberg, author of the first anesthesia textbook with a brain monitor on its cover and a 12 year veteran of brain monitoring with PK anesthesia for cosmetic surgery.
Here's why:

Propofol is detoxified (or metabolized) in the liver, changing the blood levels of propofol.
There is a huge, 19-fold difference between different people in how their livers metabolize propofol.
Changing propofol blood levels changes brain levels that may alternatively (and dangerously) deepen or (less dangerously) lighten anesthesia.
Those resulting changes ultimately reflect in brain propofol levels, measurable with a brain monitor.
"Many cosmetic surgery patients are not unlike Michael Jackson. They may be reluctant, or too embarrassed, to tell their anesthesiologist about all the drugs they may be taking or abusing," says Dr. Friedberg.
Using the brain monitor measures the propofol effect INDEPENDENTLY of other drugs in the patient's system during surgery.
Clearly, using a propofol drip for sleep at home is a very dangerous, off-label use of propofol. DO NOT TRY THIS AT HOME.
"Nonetheless, had a brain monitor been measuring Mr. Jackson's response to the drug, it would have been harder to give him a big enough dose to make him stop breathing which would lead to his heart stopping," claims Dr. Friedberg.
Dr. Friedberg is the founder of the Goldilocks Anesthesia Foundation, a non-profit organization whose mission is to educate Americans about the public health risk of routine anesthesia over medication and the value of brain activity monitors in eliminating, or greatly reducing, those risks.
For more information about avoiding the risks of routine anesthesia over medication, visit http://www.GoldilocksAnesthesiaFoundation.org
For more information about PK anesthesia, visit http://www.CosmeticSurgeryAnesthesia.com, a patient friendly web site empowering the public with a safer alternative to general anesthesia for cosmetic surgery since 2001.
Media contact:
Barry L. Friedberg
+1-949-233-8845
# # #