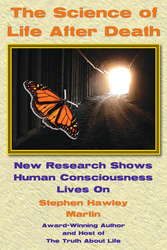 The Duke University Parapsychology Laboratory demonstrated the non locality of conscious in numerous experiments over the years
Richmond, VA (PRWEB) August 4, 2009
A new book from Oaklea Press, The Science of Life After Death, draws on recent research by the Windbridge Institute and an ongoing study by the University of Virginia, to provide indisputable evidence of the continuation of human consciousness, separated from the body, after death.
The author, Internet talk show host Stephen Hawley Martin, has been interviewing quantum physicists, scientists, and researchers of the paranormal since his weekly talk show, The Truth About Life, debuted in 2007. The book reports what he has learned and postulates a theory to explain it.
Martin said that most educated people dismiss out of hand the idea consciousness can continue after death because they believe consciousness is dependent on the brain. His book cites research that indicates this may not be the case. "The Duke University Parapsychology Laboratory demonstrated the non locality of conscious in numerous experiments over the years," he said. "Quantum mechanics, in what is referred to as the Copenhagen interpretation, shows that what a researcher knows or doesn't know--what he measures--can change the pattern on a screen. How could this happen if consciousness remains inside our heads? The act of observation collapses wave equations, indicating consciousness is not merely a byproduct of the physical brain, but a separate entity that can impact the physical. If you don't believe this, ask any quantum physicist."
Martin went on to say, "Until recently science had nothing to say about the afterlife. Now there are answers. It's astonishing to me how much has been discovered by scientific means in the last few years and how little has been reported about it in the general media. For example, we now know that memories can form and be stored without a brain being involved. What has been learned overturns the long-held tenet of science that consciousness and memory are products of the brain. I believe this is as important a discovery as that of Copernicus--that the Sun is at the center of the solar system. It will profoundly change how we look at life and the world."
Another startling revelation the book contains is that it may be possible for the living to communicate with deceased loved ones. Julie Beischel, Ph.D., Director of Research at the Windbridge Institute (http://www.Windbridge.org), said, "Our research demonstrates that, under blinded conditions, certain mediums can report accurate and specific information about deceased individuals without any prior knowledge about the deceased or their living loved ones, in the absence of any sensory feedback, and without using deception or fraud."
The Science of Life After Death will be in stores November 1, 2009, but advance copies are available for purchase now at the author's web site, http://www.shmartin.com.
The Oaklea Press Inc. was established in 1995 and publishes a popular line of business books as well as self-help, fiction and metaphysical titles.
###