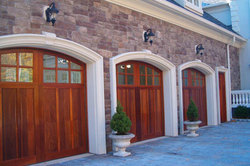 There is a style to complement every house
Parsippany, NJ (Vocus) August 4, 2009
"A garage door makes up a huge portion of a home's exterior and installing the right one is essential for convenience, home value and curb appeal," says owner/operator Dennis Bencsko. "Asking the right questions and taking your time ensures that you pick the right door for your home."
When picking a garage door, New Jersey residents should take into account these factors before making a purchase:
> Space- An accurate measure of the space is extremely important to avoid the hassle of returning and reordering. The best way to get the right measurements is to have a professional installer come out and do it.
> Budget- There is a range of prices depending on the material. Wood can cost anywhere from $1000 to over $10,000. Steel typically costs the least and can be installed for well under $1,000. Wood-Composite and Vinyl are good mid-range options. Insulation is another consideration; Non-insulated doors can reduce the overall energy efficiency of the home when the garage is attached to the home. It can also affect the value of the home- not necessarily the price, but a nicer door can aid in selling.
> Type- There is a couple of different types based on how they open. The most common type is the raised panel. Another type is the recessed panel. There is also the carriage house style garage door, these are overhead garage doors that can dramatically add to the appeal of a home. Decorative trim and windows are also an option when personalizing a door. "There is a style to complement every house," says Bencsko.
> Materials- There is a variety of materials available. Steel and wood are the most common, but, composite and fiberglass are also options. "When determining the type of material, I suggest my customers take into account whether the door is attached to the home and a prominent part of the home's asthetic appeal. Also, consider how much maintenance the style of door requires." says Bencsko. "For instance, wood doors require refinishing every couple of years and can warp in humid wet climates." Steel is less expensive, but it can dent. It's all about finding the door that best fits your needs at the right price point.
Bencsko strongly recommends consulting with a licensed and insured professional who is very experienced in the different options as well as what will look best on the home. Garage doors account for practically a third of a home's exterior and it is also a moving part. For all of its usefulness, it should also look good.
###