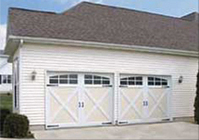 If these seals are damaged, they are letting in the weather and also letting heat and cold in and out, which reduces the efficiency of the insulation.
Westchester, NY (Vocus) August 4, 2009
With practically a third of a house being covered by a garage door, energy efficiency is very important. This large area offers several opportunities for air to escape but it can also have a hard time holding in the cool air or heat.
There are several upgrade options in products for the energy efficient consumer. All over New York, including big cities like NYC and Buffalo, garage doors are helping residents save money on their heating and cooling bills.
Owner/operator Doug Bencsko says, "In increasing numbers, our customers are seeking energy efficient decorative windows for their doors as well as upgrading to a fully insulated model that also adds to the curb appeal of their home." Bencsko wants to make sure that everyone knows these products are also aesthetically pleasing and they also add to the value of the home.
Before opting for garage door repair, replacement may be better to get the full energy saving benefits of certain doors. For instance, wood materials look great, but they are not insulated. By replacing a wood door with an insulated aluminum, wood composite or a steel Garage Door, New York residents can save some money on their electric bill.
But for garage door, New York company, Precision Garage Door, recommends a few easy fixes to optimize the energy efficiency of a door. "Always check the weather-stripping that lines the sides of the door and also make sure that the bottom seal is intact," Bencsko advises. "If these seals are damaged, they are letting in the weather and also letting heat and cold in and out, which reduces the efficiency of the insulation." Replacing the seals is easy and can be done personally or by a professional.
Bencsko also wants New York residents to know that all insulation is not created equal. A two-inch thick door will have an insulation rating range of R-6 to R-18. The higher the number, the more effective the product is at energy efficiency. When considering repair, the very best product is the polyurethane foam that is squirted in between the door skins. A solid foam is also available for placement between the skins.
Keeping up with basic routine maintenance is also essential to the efficacy of a door and its impact on the electric bill," says Bencsko. Misaligned doors, the close limit setting and other factors all play a role in maintaining a home's temperature. "Remember, even though the garage is not typically a climate controlled room, it is still connected to the home and it has a direct impact on the interior temperature."
If decorative windows are a part of the garage door, it is important to have double paned glass or other energy-saving materials. The seals around the windows must also be maintained-any little leak has an impact on the home.
Bencsko invites New York residents to visit Precision Garage Door for more information on how to make their garage doors more energy efficient and start saving money on their power bills as well as keeping their homes more comfortable. As a licensed professional installer, he offers his customer's replacement or repair as a solution to their problem and, he does it without compromising the curb appeal of the home.
###