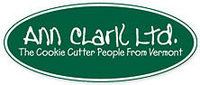 We manufacture all of our stock and custom cookie cutters in our Rutland, Vermont facility
Rutland, VT (PRWEB) August 5, 2009
Businesses of all sizes are always in the market for unique ways to keep their brand in front of customers, often choosing to place their name on pens, pads, mugs and more. Now Ann Clark LTD offers businesses a new alternative to promotional giveaways with custom cookie cutters. Businesses can create a logo cookie cutter with a custom recipe card or a variety of other industry specific shapes and sizes.
"We manufacture all of our stock and custom cookie cutters in our Rutland, Vermont facility," shares Ben Clark, vice president of Ann Clark LTD and son of its founder. "We can take any logo or image and turn it into a cookie cutter. With a custom promotional message on an attached recipe card, these cookie cutters are a huge hit in the corporate world."
Businesses can create custom made cookie cutters or choose from hundreds of stock shapes. Each cookie cutter includes a specially designed recipe card where businesses can personalize the message and the imagery. The cookie cutters are made of either high quality tin or copper and a variety of packaging options are available, including a gift box, clear bag, self mailer or loose (unpackaged).
Ann Clark LTD of Vermont has been making cookie cutters since 1990 and in that time has become America's number one cookie cutter manufacturer. Handcrafted in its Rutland, Vermont facility, Ann Clark produces tin and copper cookie cutters. Styles include hundreds of classic cookie cutter shapes as well as a new line of contemporary cookie cutters, each accompanied by a family cookie dough and frosting recipe. The cookie cutters can be found in kitchenware stores and gift shops nationwide as well as at its Web site, at http://www.annclark.com . Information about the promotional cookie cutters, packaging options and stock shapes, can be found at http://www.annclarkpromo.com .
###