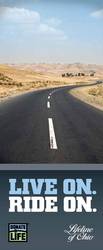 Columbus, OH (PRWEB) August 4, 2009
At the age of 11, Michael Corea was faced with his own mortality; he was told he would need a liver transplant to survive. Two years later, he received the organ he so desperately needed.
Michael's story

At 11 years old, Michael's rare liver disease put him on the transplant list hoping for a second chance at life. Just two years later, he was hospitalized due to his disease and begged the doctors to let him return home as he waited for his transplant. While his wish was granted, he told his mother that he did not want to come back until he received his transplant.
The very same day he retuned home, he received the news he had been waiting for: a liver was available.
The transplant was a great success and Michael lived life to the fullest, running track, graduating high school and ultimately attending the only college he would consider - The Ohio State University.
He also indulged his adventurous side, saving he wasn't afraid to die, so he wasn't afraid to live. Michael told his mother he planned to go skydiving, cliff jumping and purchase a motorcycle.
To Michael, his Suzuki 600 was his freedom. He took training courses and always wore his helmet and once told his family, "When I die, I hope I die on my bike, because I'll die happy."
On June 5, 2006, Michael took his last final exam before graduation. Ecstatic about his accomplishment, he called his mother and said, "I haven't felt this good in a long time." Michael planned to eat some of his mom's meatballs, then go for a ride on his Suzuki. But excitement turned to tragedy that evening. A few hours later, Lynda received another call; this one informed her that Michael had been in an accident. When Lynda and her husband arrived to The Ohio State Medical Center, Michael was on a ventilator and his brain function was deteriorating. His mother knew what the meant and thought back to the day of his transplant when Michael told her, "If I die, you tell them to take anything they want so others can live." Michael accomplished something very rare; he was both a transplant recipient and an organ donor.
Michael's spirit lives on:

Michael's heart, lungs and tissues were donated to save lives and the donation brought joy and peace to his family in the midst of tragedy.
The Corea family has corresponded with one of Mike's organ recipients: Barbara, a 64-year-old mother of four and grandmother to 12. She received Michael's lungs after three years of waiting.
Barbara told the Corea family that she is able to do things she has never done before. She was always hesitant about her grandson's motorcycle, but one day when her grandson asked if she wanted to go for a ride, she said, "It must have been Michael's spirit which made me say yes."
She enjoyed the ride so much, she said she couldn't wait to go again.
Quotes from Lynda Corea

"When he was placed on the transplant list, his whole life changed," said his mother, Lynda. "He made priorities and short-term goals and even wrote out his will twice!"
"This was something that was very important to him; we wanted to fulfill his wish to donate."
"He was so happy and we support that. He rode as much as he could. It was just an accident and he went the happiest way he could go."
The Michael Allen Corea Scholarship Fund

The family recently established the "Michael Allen Corea Scholarship Fund" at The Ohio State University.
The scholarship is available to organ transplant recipients or donor family members. The first scholarship will be awarded Fall 2009.
About "Live On. Ride On."
Lifeline of Ohio, the nonprofit organ procurement organization responsible for promoting organ and tissue donation in central and southeastern Ohio, is sharing Michael's story, and others, in an effort to show the public what an organ donor really is: a hero. Because of donation, Michael was able to live on. Because he donated, his spirit can ride on.
"We are aiming to reclaim the negative slang term "organ donor" in the motorcycle industry," said Kent Holloway, CEO of Lifeline of Ohio. "Motorcyclists should be proud to declare themselves organ donors. Our goal is to demonstrate the positive impact they can have by registering in the Ohio Donor Registry and let them know they have the opportunity to live on and ride on by donating life."
Lifeline of Ohio is working to connect with motorcycle enthusiasts, a group known for its philanthropic efforts and sense of community, with their "Live On. Ride On." campaign, launched in May 2009. The group is reaching out to motorcyclists at events, retail locations, rider training programs and through social media. So far, the initiative has been a success, touching hundreds of enthusiasts and registering more than 30 new organ and tissue donors. Motorcycle enthusiasts in central Ohio can also connect with "Live On. Ride On." online, at http://www.Lifelineofohio.org/LiveOnRideOn, where they can read stories of motorcyclists who have been touched by donation, see the latest schedule of events, connect through Facebook and Twitter and register to be an organ and tissue donor.
About Lifeline of Ohio
Lifeline of Ohio (LOOP) is an independent, nonprofit organization whose mission is to promote and coordinate the donation of human organs and tissue for transplantation. Lifeline of Ohio is approved by the Centers for Medicare and Medicaid Services (CMS) of the U.S. Department of Health and Human Services as the designated organ procurement organization (OPO) serving 37 counties in Central and Southeastern Ohio, and Hancock and Wood counties in West Virginia. Lifeline of Ohio provides services to 64 hospitals through its transplant coordinators. LOOP's clinical staff is on call 24 hours a day to coordinate the recovery and transport of tissue and organs for transplant.
Additionally, Lifeline of Ohio offers educational presentations for professional, civic, church and social organizations, as well as elementary through college level school programs. These programs are offered year-round as a community service and are customized to meet the objectives of the particular audience. Printed materials regarding donation, as well as donor registry information, are also available from Lifeline of Ohio by calling 800.525.5667 or visiting the Web site at http://www.lifelineofohio.org.
###