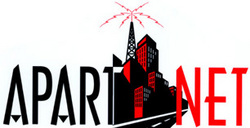 Salt Lake City, UT (PRWEB) August 5, 2009
Apartnet, Inc., is proud to announce the launch of their new website, apartnet.net. Apartnet.net can help property owners increase their monthly revenue property value by setting them up with bulk satellite TV, Internet and phone services. Adding these services helps owners gain a competitive advantage over their competition. Adding these services will also will increase CAP rate and help attract and retain tenants.
The demand for high speed internet and satellite TV in apartments and multi-family unit communities is increasing, and high speed internet is the 2nd most sought after amenity for apartments. One-dish solutions are available for buildings. Rather than having 100 dishes scattered around the building, one dish can provide services for all the building's tenants, which makes buildings more presentable. These services can be added to existing buildings or those under construction.
There are various management options and pricing models that adapt to every type of property. For example all services and equipment can be managed by the owners or a third party service, including the billing. 24/7 customer support is available for owners and tenants. Apartnet has everything to fully service apartments, hotels, condos, MDU communities and investment properties with these amenities and services.
Case Study
Multi-family Unit housing properties across the nation are adding these services and immediately seeing the benefits. One property in Denton, Texas, recently added bulk satellite and Internet to their 480-unit apartment community. Since the addition, they have had nothing but praise and good feedback from their tenants. In just over 90 days, they estimated an increase in their property value of $1 million. They were also able to immediately increase their rents by about 10 percent. There isn't a better way to get an instant return on an investment.
Everything from a free quote to the installation can be handled through one company, Apartnet, Inc. They offer the best rates in bulk satellite TV, Internet, and Phone Services for just about every provider available. Apartnet is now installing nation-wide for existing and under-construction buildings for Direct TV, Dish Network, Broadband Internet, and Local Phone Services.
Contact Apartnet.net for a free quote by visiting Apartnet.net for more information or by calling them toll free at 1-888-732-3645.
###