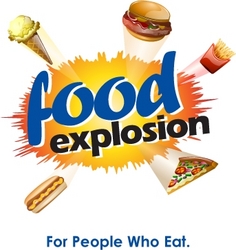 To create a network of people to recommend the joyful, social nature of food.
Douglasville, GA (Vocus) August 4, 2009
Life just got better for food-lovers world wide. A new social network has been created, and it is as simple as it is delicious: FoodExplosion.com: For People Who Eat.
Food Explosion was developed out of love for food and allows its users to do just that: share the food you love! The website's mission is "To create a network of people to recommend the joyful, social nature of food."
The site creates a forum where users can enhance and expand their gastronomic pleasures by sharing recommendations of their favorite foods, recipes and restaurants, with their social network and beyond. Users will be able to access their friend's food recommendations for any occasion and create an unlimited, personalized "Table of Friends."
By focusing on the positive Food Explosion skips the food snobbery and gets straight to the good stuff. Only recommendations are allowed, so if it is on the site, it must be good.
From fast food to fine dining, there are 24 food categories that users can create recommendations. Food Explosion encourages trying new foods as well as new food experiences. Uniquely, the site focuses on the social nature of food – food as a uniting resource that can bring people and communities together. The site will offer a special page, "Dive Bombs", for sharing photos and notes about organized dining events with groups of friends.
Wherever hunger goes, Food explosion can too! Whether in the home or on the road, Food Explosion will be at your fingertips when a craving arises. The site has been developed in tandem with the mobile app fBomb to provide maximum interface with its users. Mobile applications will be available for both Iphone and Blackberries.
Above all, Food explosion is about the food you love and it strives to appeal to all of us –people who eat. The more contributors to the site, the richer the experience will be for all. Food Explosion endeavors to provide a convenient resource to record and publicly broadcast the activity we all do three times a day, everyday, EAT!
Sign up and start sharing your food, recipe, and restaurant recommendations today!
###