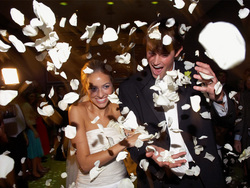 What makes our site different is that we focus on only the top three vendors. That way, a bride knows she's choosing from the very best of the best
Chicago, IL (PRWEB) August 5, 2009
Strictly Weddings, a new Chicago wedding site announces today their new cutting-edge take on wedding planning online - offering the top 3 vendors for any wedding category, the most comprehensive blog in the industry, and an innovative "Ask Us" forum where wedding questions are answered by experts.
These three features make this a ground-breaking wedding website that is unlike any other, because it combines a business directory, social network, and resource blog all in one. Having already established a foundation in Dallas, TX, the site has just launched this week in Chicago and will be launching in New York this Fall, Miami & Atlanta by Summer 2010, and Paris by 2011.
Despite the economic recession, the rate of couples getting married has stayed rather consistent. However, much like everything else, couples are having to cut costs to ensure they can still have the wedding they've always hoped for. Thus, brides across the country are hopping online to plan their weddings, and with the ever-increasing rise in social media & web 2.0, the options are getting easier and easier.
So in response to unprecedented growth in the online bridal business, Strictly Weddings was developed to streamline the wedding planning process. A concept that would help brides and wedding planners identify the ultimate team of professionals in every major bridal category, and to develop the very first of it's kind: a true online bridal magazine. As print media continues to decrease across the globe, the web is becoming paramount for any bride looking to plan their dream weddings. Thus, Strictly Weddings is a comprehensive, unprecedented online website committed to showcasing the very best in class.
"What makes our site different is that we focus on only the top three vendors. That way, a bride knows she's choosing from the very best of the best," says Kay Kestler, site founder. "My goal is be a one-stop destination, the only site a bride needs to visit." Kestler is not only company founder; she is, in every sense, the quintessential "editor," selecting participating partners based on their quality, professionalism and reliability.
The wedding industry is still very much alive and booming, and the Internet has become a very important resource, with over 75% of brides utilizing the web to plan all of their wedding proceedings. As an added bonus, wedding planning online dramatically increases the speed of the whole proceedings. Instead of the long, arduous process of the past, brides can utilize a comprehensive resource like Strictly Weddings to ensure the wedding goes perfectly.
To learn more about Strictly Weddings, visit the Chicago wedding resource and the Chicago wedding blog
###