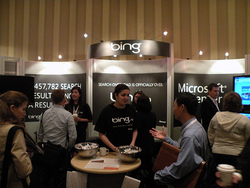 San Jose, CA (PRWEB) August 4, 2009
The Microsoft-Yahoo deal announced last week makes conference passes to Search Engine Strategies (SES) San Jose the hottest tickets in town. If marketers want to figure out what the Microsoft-Yahoo deal means for their search engine optimization and pay per click advertising programs, then Search Engine Strategies San Jose, which will be held at McEnery Convention Center August 10-14, 2009, is a must-attend event.
For example, conference attendees might want to attend many of the following sessions:
SEO Tools of the Trade: What's in YOUR Toolbox? -- This session will describe the tools that will help you to accomplish your tasks including indexing, competitive analysis, site ranking, diagnosing and remedying problems, page level information, site level information, on-page optimization and much more. Rajesh Srivastava, Principal Group Program Manager, Bing, and David Roth, Director of Search Marketing, Yahoo!, Inc., are among the speakers.
Keywords & Content: Search Marketing Foundations -- Keywords are the life line to every search campaign, and with Bing now powering Yahoo's search engine, how will your campaigns be impacted? Find out what changes you should be looking out for. Marc Canabou, Senior Director, Product Management Leader, Yahoo! Search Advertising, and Ari Levenfeld, Manager Client Services, Ask Sponsored Listings, are among the speakers.
Duplicate Content & Multiple Site Issues -- Find out how your site's rankings will be affected by multiple site issues and what changes are in store for you. Greg Grothaus, Search Quality Team, Google, Sasi Parthasarathy, Program Manager, Bing, and Ivan Davtchev, Lead Product Manager, Search Relevance, Yahoo! Search, are among the speakers.
Bing Toolbox: Your One-Stop Shop for Better ROI -- In this sponsored workshop, the Bing Team will take you through the various tools offered to help you get the most from Bing. The speakers are Rajesh Srivastava, Principal Group Program Manager, Bing, and Alessandro Catorcini, Senior Program Manager, Bing.
Ads in a Quality Score World -- More and more, ranking well in paid search listings is less and less about how much you pay and more about the "quality" of your ad campaign. Tomaso Pozzi, Product Manager, Core Model & Optimization, Yahoo! Search Marketing, and Jonathan Alferness, Group Product Manager, Google, are among the speakers.
The New Search ROI: Measuring More than Conversion -- Experts are anticipating the new MicroHoo relationship to be a boon for advertisers. Find out what best practices you should be incorporating, and what added benefits your campaign can expect with the combined power of Yahoo! and Bing. James Colborn, Director, Microsoft Advertising, Microsoft, is among the speakers.
Search Becomes the Display OS -- With the continued decline in Display performance, some people believe the only thing that will save Display advertising is making it more like Search. This session explores these leading edge ideas, technology and provides some early case studies the effectiveness of making Search the Operating System for Display. Rajas Moonka, Group Business Product Manager, Google Inc., and Josh Jacobs, Vice President and General Manager, Advertising Technology, Yahoo! Inc., are among the speakers.
For more information about the largest search engine marketing conference and expo on the West Coast, go to the SES San Jose 2009 website.
About SES
Incisive Media's Search Engine Strategies is a leading global conference and training series focused on search engine optimization and search engine marketing. Other Incisive resources for interactive marketers include the ClickZ network for digital marketing news, information, commentary, advice, opinion and research and Search Engine Watch which provides news and information about search, analysis of the search engine industry and tools for improving search marketing effectiveness.
Incisive Media is a leading global provider of specialized business news and information, in print, in person and online. The company's principal markets include financial services, legal services, commercial real estate, marketing services and risk management. Incisive Media's market-leading brands include Accountancy Age, Computing, Investment Week, Legal Week, LegalTech, Post, Real Estate Forum, Risk, Search Engine Strategies and The American Lawyer. For more information, visit http://www.incisivemedia.com.
###