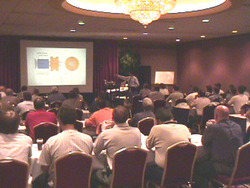 Roll Forming High Strength Steels - A Design Perspective.
Mentor, OH (PRWEB) August 6, 2009
Roll-Kraft recently participated as the exclusive industry sponsor of the Fabricators and Manufacturers Association (FMA) World-Class Roll Forming Workshop. Attendees were urged to bring along their questions, drawings, and even roll formed parts to the workshop to get answers to problems they were experiencing. Topics included presentations of basic and complex roll form systems, metallurgy as it applies to roll forming, tooling installation, use of high-strength steels, basic machine applications, lubricants, troubleshooting, and many other subjects.
Mr. Gary Summerhill, Engineering Manager of Roll-Kraft, conducted a class entitled, "Roll Forming High Strength Steels - A Design Perspective." This class covered the many options of using high-strength steels, including when they are preferred, and a comparison to other commercial-grade steels. There was an overview of tooling materials, tooling life, lubrication, equipment, and general information on the advantages and disadvantages of using the various steels.
About Roll-Kraft:
Roll-Kraft is a leading provider of services, tooling, and equipment to the tube & pipe and roll forming industry. Participation and reliance on the well-earned ISO 9001:2000 quality management certification program has helped customers in more than 50 countries identify Roll-Kraft as a reliable source of high quality products and programs.
Over the past 40 years, Roll-Kraft has excelled at roll design and manufacturing for both roll forming and tube & pipe producers worldwide. The most exciting challenges are driven by the continual progress of technology and new ideas formed by companies in the industry. This requires an on-going review of capabilities to be sure that, as the marketplace and various customers advance, Roll-Kraft can be ready with the best solution.
Roll-Kraft also provides a full spectrum of services to roll forming and tube & pipe manufacturers. One of the most effective services is the design of tooling, using FEA Copra software to identify problem areas before manufacturing even begins.
Roll-Kraft has its headquarters in Mentor, Ohio, and maintains offices in Frankfurt, Illinois (Roll-Kraft Northern) and Woodbridge, Ontario, Canada (Roll-Kraft Ltd.). The headquarters facility can be reached by phone at (440) 205-3100, or fax at (440) 205-3110. More information about Roll-Kraft products and services is available on the website, http://www.roll-kraft.com.
###