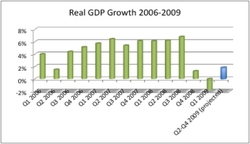 Washington, DC (PRWEB) August 6, 2009
Kaiser Associates, a global strategy consulting firm, announces the publication of its Brazil Market Pulse Summer 2009, developed in partnership with FAMA Investimentos (a leading São Paolo-based investment manager). The report is a result of detailed interviews with executives across industries in Brazil to gain their perspectives regarding late 2009 and early 2010 macro- and microeconomic forecasts.
Kaiser's analysis should be considered instructive for companies in Brazil, as well as companies in the U.S. and Europe expanding or potentially acquiring in Brazil. Kaiser's method for estimating GDP aligns closely with estimations made by leading economists, "the aggregate view of executives approximates what international economists project for 2009, which validates the results," said Jose Moulin Netto, Senior Partner of Kaiser Associates Brazil. "However, Kaiser's analysis also provides an additional layer of detail by industry, and an understanding of more microeconomic moves that major companies are undertaking to break out of the downturn and drive growth."
A summary of key macro and microeconomic findings:
Macroeconomic Projection

Respondents a bounce back to positive growth in the second half of 2009, leading to an overall 0% growth rate for 2009, this down from 5.2% real GDP growth in 2008 (See chart at right)
Relative to other BRIC markets, Brazil's 0% growth in 2009 trails both China and India for 2009 GDP growth, but is similar to growth expectations for Russia
Industry Expectations for CPG/Retail, Industrials, Services, Commodities, Agribusiness, Real Estate

The CPG and Retail sector is particularly bullish about increasing sales and operating margin in 2009-10 having seen strong YoY retail sales growth in April and May 2009
Both the industrials and the services sectors expect continued strong top line growth with slightly improved operating margins
Mirroring the global fall in commodities prices, executives in the commodities industry expect significant contraction in sales, with some compression in operating margins
Contrary to expectations in the U.S. and Europe, Brazil's real estate sector is less pessimistic due to concerted government action to stimulate this industry
Agribusiness, a major source of export earnings expects medium to strong top line growth, but compressed operating margins
Firm Actions

In response to the economic downturn, major companies are looking for cost cutting measures, but are not looking to exit non-core markets
Instead, leaders see this as an opportunity to launch new products and enter new markets both organically and inorganically
For the complete report, please visit Kaiser's website at http://www.kaiserassociates.com/cs/_market_pulse2009
For more information please contact:
José Moulin Netto
Al. Campinas, 579 - 1º floor
Jardim Paulista
Sao Paulo - SP - Brasil
Tel: +55 (11) 3266-7151
Mark Stein
1747 Pennsylvania Ave, NW
Suite 900
Washington, D.C. 20006
202-454-2000
Luc Dechamps
18 Hanover Square
London
W15 1HX
England
+44 (0)20 3178 3610
About Kaiser Associates: Kaiser Associates is an international strategy consulting firm based in Washington, D.C. with offices in London, São Paolo, Dubai, South Africa, Hong Kong, and Canada. With 28 years of experience helping leading corporations gain and sustain competitive advantage, Kaiser's ability to offer clients fact-based insights and advice based on external learningsis unique among leading consulting firms. Its powerful research and analysis capabilities offer clients penetrating insights into their customers, channels, competitors, and industry, as well as the best practices employed by peer companies and "best-in-class" organizations.
Kaiser specializes in identifying opportunities for market expansion/entry in markets like Brazil through customized market opportunity assessments and target screening and due diligence in the case of an acquisition.
About FAMA Investimentos: Founded in 1993, FAMA is an independent investment manager focused on variable income management. FAMA does not have its own portfolio, and therefore focuses on the proper administration of client resources and avoiding any of conflicts of interest. Since its founding, FAMA Investimentos has identified investment criteria solely through industry fundamentals, and targets companies with huge potential for long-term return.
# # #