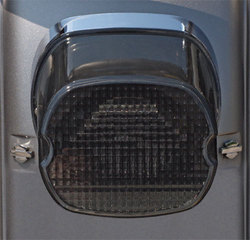 Wake Forest, NC (PRWEB) August 6, 2009
Today, Custom Dynamics® officialy introduces its new line of Street Magic® Genesis™ II LED tail lights for the Harley Davidson® motorcycle market. We are proud to add these new products to our expanding line of motorcycle lights and motorcycle accessories. The new Genesis™ II LED product line is not limited to Harley Davidsons®, it will also include Metric, Sportbike and Goldwing® motorcycle products.
Our new Genesis™ II LED Tail lights are unique due to their oval board shape which feature 120 second generation Genesis™ LEDs. The unique shape allows the board to be set deep inside the reflector to give the maximum light output. We believe that the quality LEDs and new design make this the best direct replacement LED tail light on the market today. We are offering a 100% satisfaction guarentee and a lifetime warranty againist LED failure on these tail lights.
These tail lights are a quick and simple do it yourself installation. In order to install, you simply remove your existing tail light by removing the 2 screws and releasing the plug. You then plug in your new unit and re-secure with the exisiting screws. There is no need to worry about durabilty, these tail lights are complete water tight units that come with an OEM gasket.
Genesis™ II LED Tail Lights are avaliable in mutiple models to fit your needs. You have the option of a smoked or red lens as well as the option of the stock squareback style or the low profile laydown style. You even get to chose whether or not you have a LED illuminated license plate window.
Custom Dynamics is also able to offer a new feature with these tail lights. We are now offering the option of a black reflecter as opposed to a chrome reflecter on the smoked laydown models. This feature provides a blacked out effect that looks more natural, especially on black and silver bikes, than a stock taill light does.
These units have a suggested retail price of $139.95 and $149.95 depending on the model.
For more information contact Custom Dynamics at 1-800-382-1388 or online at http://www.customdynamics.com.
# # #