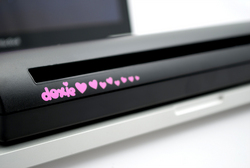 Raleigh, NC (PRWEB) August 5, 2009
Shipping worldwide this November: A new kind of scanner that'll revolutionize the way Mac and PC users think about scanning documents, photos, and receipts forever. Doxie is ultra-portable, fully automatic, integrated with popular web apps, and only $129 -- so amazing, useful, and affordable, it's love at first scan.
Doxie is now in private beta and ships this November. More information coming soon. Sign up for updates and priority pre-order notification:
About Apparent Corporation
Founded in 1998, Apparent makes smart devices and software that rocks. The company's award-winning technologies, products, and brands organize home collections, create barcodes, process payments, scan documents, track business inventories, and more. IntelliScanner, the company's flagship brand, organizes everything with barcode technology.
+1 919-468-0340, hello@itsapparent.com, http://www.itsapparent.com.
Press Resources & Photography: http://www.doxiescanner.com/press/
Patent pending. FCC approved. CE Mark. RoHS compliant. Specifications subject to change without notice. Price in United States dollars. Doxie requires Mac OS X 10.5 (Mac OS X 10.6 suggested); or Windows XP/Vista/7. Doxie(tm), the Doxie stylized heart logo, Doxie loves documents(sm), the amazing scanner for documents(sm) and Love At First Scan(sm) are trademarks.
Copyright (c) 2009 Apparent Corporation. http://www.itsapparent.com.
All rights reserved. All trademarks are the property of their respective owners.
###