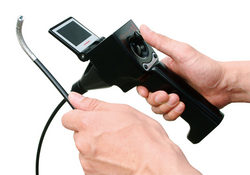 Before joining RF System Lab, I spent several months studying the technology behind the VJ video borescope, and I am convinced that this product will revolutionize remote visual inspection
Gaylord, MI (PRWEB) August 6, 2009
High Tech video borescope manufacturer RF System Lab today announced that Mr. Eric V. Olshove has joined the company as Vice President of Sales and Marketing.
Mr. Olshove is a graduate of Michigan State University School of business, degreed in accounting. He began his career in the energy industry and later transitioned into trading, marketing and sales. Eric has been in sales for over 15 years and brings a multi-faceted background in sales / sales management, office management, executive recruiting and cradle to grave business development.
"Before joining RF System Lab, I spent several months studying the technology behind the VJ video borescope, and I am convinced that this product will revolutionize remote visual inspection", stated Mr. Olshove. "This borescope is the result of meticulous R and D work, and it shows. It offers all the critical features of a modern video borescope - joystick articulation control, image and video capture, battery operation, CCD image quality - in a very lightweight, compact, and affordable, package."
Newly introduced, the VJ video borescope is a breakthrough product that puts micro-camera and lens technology into the hands of industrial inspection and maintenance personnel across a wide range of industries. Adapted from RF's medical imaging technology and expertise in micro cameras and optics, this new video borescope delivers all of the critical features found in more expensive scopes, at a price that is well within reach of nearly everyone who maintains large industrial or transportation equipment.
The VJ uses a 6.9mm diameter insertion tube, which houses the 1/6 inch CCD camera module and LEDs. Joystick-controlled four-way articulation allows the user to point the camera in any direction, and the image is displayed on the integrated color monitor in 379,000-pixel resolution. An onboard image processor allows the user to capture and record photos and video, which is useful in obtaining a second opinion, showing a customer a potential defect, or for archiving and record-keeping purposes.
The combination of the low price, portability -- it weighs just 20 ounces and comes in a hard-shell briefcase -- and onboard image processing, means that industrial maintenance technicians and inspectors will soon be performing their jobs easier, faster and better than ever before.
For additional information about the VJ video borescope, or to schedule a product demonstration, please contact Eric V. Olshove at 989-731-5083 or visit rfsystemlab.us. RF System Lab., based in Nagano, Japan, is a leading developer and manufacturer of micro imaging products for medical and industrial applications.
RF System Lab manufactures highly-portable video borescopes with joystick-controlled, four-way articulation. Features include one-click image capture and video recording, one-hand operation, and variable LED Illumination. Nearly six years in development, RF's battery-powered, all-in-one system weighs 20 oz. and requires no external hardware or software to capture, record and review images and video. Images and video can also be recorded directly to a PC using the included USB cable or can be easily transferred to a PC via removable memory card. Using technology adapted from the medical field, the 6.9mm video borescope utilizes a 1/6" CCD imaging sensor delivering 379,000 pixels and a focal range of 15mm to infinity. RF System Lab has found tremendous success in the Oil & Gas, Wind Turbine, Aviation Maintenance, Shipping and Marine, Utilities, Locomotive and Railway, Manufacturing and Heavy Equipment Maintenance markets.
Call or visit the RF System Lab. web site for more details or to request your no cost demonstration unit. http://www.rfsystemlab.us 989-731-5083.
# # #