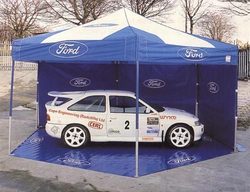 Melbourne, VIC (PRWEB) August 6, 2009
Australians naturally like to spend much of their time outdoors, but sometimes, the weather doesn't cooperate. For these moments, an outdoor shelter is the perfect way to combine the pleasure of being outside with the safety and comfort of a solid structure.
Schools and social clubs across Australia are adopting outdoor instant shelters as their preferred method of staying protected during open-air events. Easily erected in less than 60 seconds by two people, these instant marquees can withstand the elements, keeping guests high and dry no matter what Mother Nature decides to bring along to the party.
New outdoor instant shelters built with high quality materials have recently been developed to meet this need for protection. Unlike sub-standard knockoffs from department stores and garden centers, these marquees use commercial grade aluminum to support their durable, 100% PVC canvas roofs. The walls are also made of 100% PVC, 500 denier canvas, and come equipped with Velcro and zippers for tight, secure closure.
Outdoor instant shelters are a perfect fit for both school and social clubs, and marquee manufacturers are reporting rising demand. Both kinds of organizations schedule events months in advance, with the weather being a distant thought rather than an immediate reality. In the past, even a few drops of rain could spoil an entire afternoon. With the increasing popularity of well-built marquees, however, there's no longer any need to cancel or postpone get-togethers. The shelters are also UV-proof, shading pale skin from the dangers of the sun. When the nearest tree is miles away, instant shade is available within 60 seconds.
Many schools and social clubs also choose to print their logos and names on the sides of their outdoor instant shelters. This is the perfect opportunity to broadcast organizational pride. Bringing a personalized marquee to an event sends the message that a team or social club is a well-run, legitimate group.
There's no better way to make the outdoors as safe and comfortable as inside. You can maximize your school or social clubs outings by adding one of these durable, long-lasting outdoor instant shelters.
###