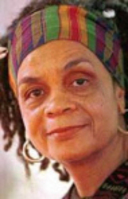 New York, NY (PRWEB) August 6, 2009
Displaying the bold spirit of celebrated poet and Black Arts Movement playwright Sonia Sanchez, The Riverside Theatre and BeBop Theatre Collective are presenting performances of two one-act plays from early in Sanchez' career that have not been performed since the late '60s, running from Thursday, August 6 to Monday, August 17, at the Riverside Theatre, 91 Claremont Ave. (bet. 120th & 122nd St.), Morningside Heights.
Sanchez's first play, The Bronx Is Next, is a provoking commentary on interracial racism and interracial sexism that premiered in The Drama Review in 1968. The play follows Charles, Roland and Jimmy, three Black Revolutionaries forcing tenants into the streets as part of their organization's protest plan to burn out the horrible tenements of Harlem. The play typifies Sanchez's bold spirit as it illustrates her early capacity to celebrate the Black Power Movement and critique it at the same time. The patriarchal oppression of women within the Black Power Movement is thus central to the play's impact both in the '60s and today.
Sister Son/Ji, in part, explores the vital role in the movement of college students whose personal interactions often mimicked confrontational, unhealthy male/female relationships derived from sexist behavior within the larger black (militant) community. Descriptions of social and personal divisions among characters in the play emphasize Sanchez's criticisms of black paternalism within the movement--continuing Sanchez's unflinching examination of paradoxical notions of liberation in the Black Power Movement. This BeBop Theatre Collective production marks the 40th anniversary of Sister Son/Ji.
Showtimes are August 6, 7, 8, 13, 14, 15 and 17 at 8:00 p.m.; and August 9 and 16 at 3:00 p.m. Tickets are $30 general admission for the Opening Night Performance & Reception Celebration (August 6) and $20 for all other performances. Order tickets online here. For more information, call 212-870-6784 or visit http://www.theriversidetheatre.org.
###