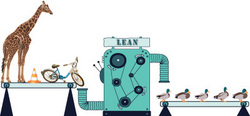 If I were to speak with other officers and sailors about Lean, I would tell them that we can no longer afford to do business as usual. The country demands that we exercise fiscal responsibility
San Diego, CA (PRWEB) August 6, 2009
San Diego State University's College of Extended Studies (CES) Lean Enterprise and Lean Six Sigma Green Belt programs can help organizations streamline processes and services, reduce waste, and focus on achieving measurable results, making them more competitive and profitable in today's business climate.
Joseph Smith, process improvement division head at Southwest Regional Maintenance Center (SWRMC), whose Naval ship maintenance division has sent dozens of employees through the Lean Enterprise program at CES shared his Lean experiences in an interview with Navy.mil, the official web site of the United States Navy:
"If I were to speak with other officers and sailors about Lean, I would tell them that we can no longer afford to do business as usual. The country demands that we exercise fiscal responsibility," Smith told Navy.mil.
"Our budgets are decreasing and we're being asked to do more with less," Smith added. "Lean will provide you the tools to find ways to give the customer the value they expect while reducing the time and cost of delivery."
The Lean Enterprise certificate program at CES utilizes simulations, projects, and presentations to create practical hands-on learning that is relevant to the workplace and can have immediate impact on business processes. Participants work in project teams applying the Lean concepts in their own work places, and tour San Diego companies to see Lean principles in action. The Lean Enterprise program begins September 10 and consists of 13 class sessions. For specific dates, times, and fees, visit Lean Enterprise professional certificate, e-mail lean (at) sdsu.edu or call (619) 594-1138.
The CES Lean Six Sigma Green Belt certificate program, which begins September 14, combines traditional Six Sigma methods (reduction of variation) with Lean concepts (removal of waste.) This program provides process improvement tools focused on meeting customer needs while demonstrating a quantifiable cost savings or another quantifiable business result.
Although both Lean and Six Sigma can be taught independently, Lean Six Sigma brings together the best practices of each approach, combining the practical tools of Lean with the science of Six Sigma. With Lean Six Sigma participants learn to create specific methods to eliminate defects and costs associated with poor quality. Lean ensures that organizations are focused on the right activities while Six Sigma ensures that tasks are being done right the first time.
Examples of the business results achieved by applying Lean Six Sigma tools within an organization include the following benchmarks: Typical Lean Six Sigma Green Belt projects are delivering an average of $140,000 savings per year, improved customer service levels of 95-99%, customer retention of 90% or more, lead times of 25-50% below industry averages, sales growth of 3-5 times industry average, and earnings growth of 2-4 times industry average.
For specific dates, times, and fees on the Lean Six Sigma Green Belt certificate program, e-mail lss (at) sdsu.edu, or call (619) 594-1138.
###