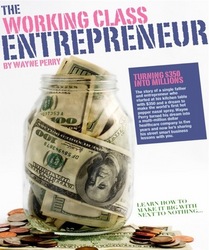 Schenectady, NY (PRWEB) August 5, 2009
Wayne Perry doesn't glorify his days as a drug dealer, but he does use experience from his past criminal activities to teach hopeful entrepreneurs how to make it big while starting with next to nothing. Perry's new book "The Working Class Entrepreneur", teaches money making lessons like no other (how to) business book ever has.
As the inventor of Sinus Buster, the world's first hot pepper nasal spray, Perry has a proven track record of creating something big from nothing. In 1994, he was a self defense instructor teaching Oprah Winfrey to use police pepper spray on her show. Thanks to that Oprah appearance, Perry accidentally discovered that hot peppers could stop headaches and relieve sinus problems. In 2003, he launched Sinus Buster in his kitchen using his last $350. Wayne Perry was an under-educated single father with nothing but the will to succeed, and within five years he built a multi-million dollar brand.
Perry's story begins with his initiation into the drug dealing business at the hands of his career criminal father. Perry's father abused the system and his family to carve out a piece of the American Pie, and these early experiences had a huge impact on the author's life. The first chapter describes Perry's dissent into the criminal lifestyle as a confused teenager with big aspirations. Within the first few pages, you're left wondering if this is a business book at all, but by the second chapter you're entrenched in Perry's story of creating the American Dream as a 21st Century entrepreneur.
"I had to expose my first business experience in this book to create an honest bond between myself and the reader. Since my first entrepreneurial experience was as a drug dealer, I had no choice but to relate those experiences. Illegal entrepreneurs have a real handle on how to do business with no financial backing, and that experience helped me conquer the over the counter (OTC) medicine industry in a legitimate way", says Perry.
Throughout the book, Wayne shares lessons he's learned along the way to help other aspiring entrepreneurs overcome the obstacles that eventually block success. Aside from relating his own triumphs and tribulations, Perry presents many tips for igniting and sustaining entrepreneurial success in any industry. Whether you're looking to create something new or expand on old ideas, this book is flush with important knowledge that all aspiring entrepreneurs should know.
By starting with next to nothing, Perry had to learn how to operate like a big corporation with just one employee - himself. As a working class entrepreneur, he taught himself how to launch a product in the mainstream marketplace with only $350. In the beginning, Perry couldn't afford expensive lawyers and ad agencies, so he learned how to do the most important things on his own with little money and lots of effort.
This book is destined to become the bible for aspiring entrepreneurs who are intent on diving head-first into big business. Perry teaches readers what to do and what not to do, with equal force. His personal experience translates into many useful lessons that any business person can use. This isn't just another entrepreneur book with a big message and little real world advice. If you have a great idea and can get your hands on at least $1,000, this book could be your guide to real financial success.
One of the biggest attributes of this book is the tips Perry puts forth to promote a start-up business with barely any cash. While traditional corporations waste millions on slick ad campaigns and empty projections, Perry shows readers how to spend thousands and appear to be spending millions, by embracing the principals of human nature and the internet. In addition, Perry shares his experience as an entrepreneur caught in a business structure filled with corporate constipation.
In 2007, Wayne Perry was featured on CNBC's The Big Idea with Donny Deutsch and the offers came rolling in. In 2008, he sold the Sinus Buster brand to a major life sciences investment firm and now he works within a system that's far detached from his days at the kitchen table. As his company changed hands, Perry continued to work within the ranks to help steer his dream into a giant success. Although he no longer runs the Sinus Buster brand, Wayne Perry has developed ways to relieve the constipation that binds up most large companies. Thus his book is filled with tips for independent businesses and major corporations alike.
Today the Sinus Buster brand has expanded into numerous products in national distribution, but Perry's original entrepreneurial sprit has grown larger than ever. Whether you're an aspiring entrepreneur or a corporate flunky looking to break the mould, this book will lead you down the most realistic and sensible path toward lasting success.
The Working Class Entrepreneur is presently available on Kindle with print editions coming soon to Amazon and other book retailers. For more information, visit Perry's official website http://www.WorkingClassEntrepreneur.com.
###