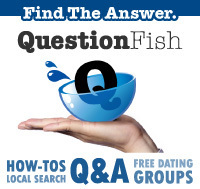 Eden Prairie, MN (PRWEB) August 13, 2009
QuestionFish.com has just launched nationwide the first truly localized social networking web site.
QuestionFish.com delivers over 80% of the total Social Networking market in one unique comprehensive site; focused on getting answers, finding whatever it is you are looking for, and meeting people of similar interests locally and/or across the country.
QuestionFish.com is a National based web site with local wwned and operated community sites. Each "city-site" has an owner who is responsible for the content and management of that site. QuestionFish believes that "Localization" is the key to our success. QuestionFish Local Sites are enhanced with all the same features of the National Site, while being supported, individualized and run by local community owners at the city-site level.
Users of QuestionFish.com enjoy Live Q&A, Groups, How Tos, Dating, Coupon (with SMS technology) and Local Search functions interconnected nationwide and combined with a robust MyPage and Profile page. In October 2009, Questionfish will expand our current capabilities and add three additional core components: Classifieds, Jobs and Real Estate.
QuestionFish has 62 active Questionfish city-sites with plans to create another 50 sites throughout the United States within the next year. All users, regardless of location, benefit from our National Questionfish Site.
QuestionFish will continue adding site benefits and increasing capabilities as our Local Owners identify community needs and desires, and Questionfish's popularity blossoms. For further information about Questionfish or Questionfish Franchisee opportunities please contact Mr. Joel Bultman.
Contact: Joel Bultman
952-270-3371
Visit the web site at http://www.questionfish.com
# # #