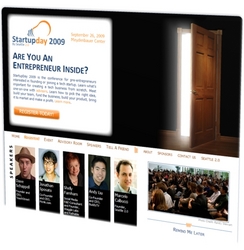 It's a great way for us to add value at such an early stage for those who are still on the drawing board
Seattle, WA (PRWEB) August 5, 2009
Seattle 2.0 is announcing StartupDay 2009 - a first of a kind conference exclusively for the technology industry pre-entrepreneurs, those who have yet to join or found a startup. The event will be Saturday, September 26 at the Meydenbauer Center in Bellevue and it will feature some of the most respected and successful technology entrepreneurs in Seattle.
"Seattle has a large pool of smart people working on the tech industry like those at Microsoft, Amazon, Real Networks, Adobe, Google, Expedia and more, who might have an idea and is wondering what does it mean to have a startup and StartupDay is the conference for them", says Marcelo Calbucci, founder of Seattle 2.0. "In addition, there are also those who have been recently laid off and been doing work as consultants and are ready to build their startup but are unsure where to start".
The conference has an all-star lineup of successful entrepreneurs participating, including Alex Algard, Founder of Whitepages.com and CarDomain; Jonathan Sposato, Co-Founder and CEO of Picnik; Josh Petersen, Founder and CEO of Robot Co-Op; Matt Hulett, Chief Revenue Officer of RealGames; Shelly Farnham, Founder of Waggle Labs and Pathable and others. Rich Barton, Founder and CEO of Zillow, the Founder of Expedia and an investor on many startups, will deliver the closing Keynote.
StartupDay 2009 will also include the Advisory Room - a room with experienced professionals, entrepreneurs and investors for the attendees to book one-one-one meetings. Each meeting is 15-minute long and attendees will be able to talk with lawyers, accountants, branding and marketing experts, entrepreneurs, angel investors, VCs and more. "We are very excited about the opportunity of being at the advisory room and answer some legal questions the attendees might have in a private 1:1 meeting", said Chris Hurley of Beacon Law Advisors. He added, "It's a great way for us to add value at such an early stage for those who are still on the drawing board". Meetings on the advisory room are included as part of the conference.
The content of the conference focus on giving an overview of several important topics to build a successful startup, from picking the right co-founder and idea, to build and market the product, to monetizing it. The conference even includes a talk on what happens when your startup fails, usually a taboo conversation for those who have experienced it.
Registration for the event opens today and the early-bird price is only $95.00 until August 21st. Attendees can register and learn more at the website http://www.startupday.com.
###