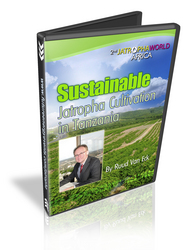 Difficulty in Obtaining Jatropha Project Financing
Singapore (PRWEB) August 10, 2009
In an interview conducted by the 2nd JatrophaWorld Africa team, Mr. Ruud Van Eck, CEO and Founder of Diligent Energy Systems BV opened up and shared some views on the status of Jatropha cultivation today, running a profitable Jatropha business in Tanzania, and adopting sustainable agricultural practices.
Mr. Van Eck shared a positive outlook for Jatropha as a biofuel feedstock, while pinpointing key challenges that Jatro-Entrepreneurs like himself will face in the next five years. They include "Difficulty in Obtaining Jatropha Project Financing", "Offering Proof of Sustainability" and "The Land Ownership Dispute".
He also provided his view on the controversial report by the University of Twente, which claims that Jatropha has the highest water footprint among all the BioEnergy crops. According to Mr. Van Eck, who verified the report with the professor in-charge directly, the sample size used in the study was small, and focused on projects located in high rainfall areas in Asia. Jatropha growing in low rainfall areas like Tanzania was not included in the study, and that grown sustainably, Jatropha does not have as high a water footprint as publicized.
In East Africa, Tanzania and Ethiopia have the largest Jatropha cultivation projects. There is also emerging interest in growing Jatropha for biofuel in Kenya and Uganda, with many small scale projects already established.
Mr. Van Eck also shared his down-to-earth insights and helpful facts on the following issues including:

What lies ahead for the Jatropha industry?
Why he chose Tanzania to grow Jatropha?
Why he chose a Jatropha out grower system over a centralised Jatropha plantation model?
The challenges and rewards of working on Jatropha in Tanzania.
Niche Buyers of Jatropha Oil in the market today.
Benchmarking a price for Jatropha oil.
Mr. Van Eck constantly emphasized his strong conviction for sustainable Jatropha cultivation and the future of it for biofuel, and said, "in order for Jatropha to be sustainable, it should NOT be grown in places that can be used to grow food crops."
His message of sustainable Jatropha cultivation will resonate strongly at the upcoming 2nd JatrophaWorld Africa, which concentrates on optimizing the efficiency and economics of Jatropha, while adhering to sustainability standards. The conference is part of the world's largest and most influential Jatropha conference series, JatrophaWorld, which has seen participation from over 1700 jatropha stakeholders from industries ranging from plantation owners, jatropha cultivation, jatropha oil producers, biofuel producers, jatropha investors, agrobiotech, technology & machine suppliers and many more from 92 countries.
2nd JatrophaWorld Africa will provide a series of practical tips to Jatro-Entrepreneurs seeking more information on converting their Jatropha cultivation projects for successful Jatropha commercialization. It will also offer insights on upcoming sustainability criteria, and focus on Jatropha cultivation projects in Africa.
Mr. Van Eck will be sharing his outlook on the jatropha value chain and the key success factors of running a jatropha operation at the 2nd JatrophaWorld Africa to be held in Brussels on October 14-15, 2009.
A recording of the interview with Jatro-Entrepreneur Ruud Van Eck can be found at 2nd JatrophaWorld Africa with conference agenda on jatopha cultivation and jatropha oil for biofuel, and other useful information on Jatropha cultivation, technologies, investment and latest industry trends. Those seeking more information on participation and sponsorship & media exchange opportunities at 2nd JatrophaWorld Africa can contact Nadia AlBahar at +65 6346 9114
About JatrophaWorld:
The JatrophaWorld Series is a showcase of all the latest trends and shifts occurring in the Jatropha value chain, bringing together on a single platform, the best expertise to discuss and analyze the present and future dynamics of Jatropha for biofuel from a technological and socio-economic angle.
# # #