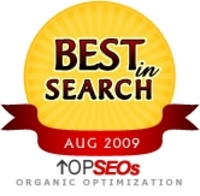 Excellence is important to us at www.seoconsult.co.uk - 9 consecutive months of holding this accolade stands as a testament to the consistent quality of our services
Cheshire, England (PRWEB) August 7, 2009
Independent search vendor authority, TopSEOs, have once again ranked SEO Consult as the UK's number 1 in their list of the Best Organic Optimisation Companies, firmly validating their position as the leading Search Engine Optimisation (SEO) agency.
How did SEO Consult win? TopSEOs evaluate up to 300 UK-based SEO agencies each month, judging them on several criteria including creativity, competency, comparative cost and most importantly customer satisfaction. At least 3 SEO clients from each agency are approached to assess how well their needs were met and to rate their investment yield. The 100% score achieved by SEO Consult for August is truly indicative of the excellent service clients can expect.
Not only that, parent company, Click Consult have maintained their TopSEOs ranking in the Best PPC Management Company category for August, a healthy third position, achieving an overall score of 96%.
"Excellence is important to us at http://www.seoconsult.co.uk - 9 consecutive months of holding this accolade stands as a testament to the consistent quality of our services," said Matt Bullas, Managing Director of SEO Consult. "Offering a full spectrum of tailored marketing solutions is key. From strategising a client's ascent up the search engine rankings to PPC management and custom-built, bespoke campaigns, we have the expertise to generate great results for every client."
To find out more about SEO Consult please visit our website at http://www.seoconsult.co.uk or call 0845 205 0292.
About SEO Consult:
SEO Consult is the specialist SEO division of Click Consult. Established in 2003, Click Consult is a leading provider of Search Engine Marketing (SEM) solutions, including Pay Per Click (PPC) Campaigns, Content and Banner Advertising, Search Engine Optimisation, Affiliate Marketing, Shopping Feeds, Website Design and Development, E-Mail Marketing and Online PR. With over 40 Staff in Cheshire and London, Click Consult has over 200 PPC and SEO clients in every major industry. Click Consult is fully certified by Google AdWords, Microsoft adExcellence, the Internet Advertising Bureau, SEOCertification.org and TopSEOs.com.
# # #