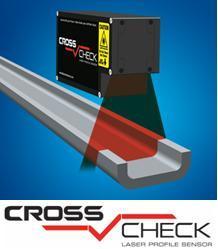 The CrossCheck™ pre-calibrated laser profile sensors are a great alternative to integrating a smart vision camera and laser line while the cost is less than the price of a single point triangulation sensor
Cumming, GA (Vocus) August 6, 2009
An Ecommerce Online Store is now open for users to purchase CrossCheck™ Laser Profile Sensors. A complete non-contact 3D measurement system includes one or two CrossCheck™ profile sensor(s), controller and software. Users can purchase a starter kit for $7449.00 or build their own system starting at $6990.00. The system is simple to use and offers customers affordable high-resolution, 3D laser measurement sensors that calculate shape based parameters like thickness, height, width, angle, radius, location, gap and depth. The CrossCheck™ product enables end-users to develop less complex, in-house solutions while at the same time provides low-cost sensors that system integrators can employ in more complex turn-key measurement applications.
The entire organization now benefits from the low cost simple to use 3D measurement solution. The New CrossCheck Laser Profile Sensors provide R&D, Engineering, Production, Quality and Maintenance personnel an excellent non-contact 3D measurement tool to improve product and production quality. While the CrossCheck™ laser is the primary measurement device the CrossCheck Software provides users with simple to use "shape tools" that act as virtual micrometers. The Shape Tools are used to fit data to a Circle, Rectangle, Vertex, Line, Gap, Bump or Step Change. Shape tools are used to set up tolerances and calculate real-time product dimensions to control thickness, radius, diameter, height, width, angle, gap, depth and location of key features. There is a Master Profile Comparison tool that insures the shape of a part stays within the actual profile limits. Bytewise has designed the CrossCheck™ product line for a wide variety of factory automation applications including process control, part inspection, robotic guidance, and shape check.
"The CrossCheck™ pre-calibrated laser profile sensors are a great alternative to integrating a smart vision camera and laser line while the cost is less than the price of a single point triangulation sensor" says Michael Harris, Founder & Technical Director. "The software is simple to use and rich in features so any company will improve their production and dimensional quality without breaking the bank."
The CrossCheck Starter Kit is available Online and priced at $7,449.00. The Starter Kit includes a CrossCheck™ Laser Profile Sensor (30mm, 50mm or 100mm measurement range), Controller and CrossCheck Software to analyze product profile data. The user can set up Pass/Fail trigger alerts and output two analog feedback control loops for direct machine control. Data can be collected and stored to a file while the user can retrieve multiple recipes for product lines that vary in size and dimension. Programmers can utilize raw X-Y coordinates and Shape Tool tolerances via the Open Source GUI (Graphical Users Interface) over a TCP/IP protocol. The Starter kit also includes a Universal Articulating Arm to securely mount and hold the sensor during measurement. The Multifunction I/O Device outputs the Pass/Fail trigger alerts plus analog control loops, while the Visual Signal Indicator outputs Green and Red alarm status to operators. The kit is backed by a 30 Day No Risk Evaluation period.
About Bytewise Company
Bytewise is a premier supplier of non-contact, profile measurement systems since 1989. Located in Columbus, Georgia, Bytewise specializes in measurement solutions for the tire, extrusion, roll forming, forging, casting, and web process industries.
CrossCheck™ 3D line laser sensors solve everyday measurement problems for scientific and factory applications. To purchase or get more information on the CrossCheck™ Laser Profile Sensor contact Michael Snow at Bytewise 1150 Brookstone Centre Parkway, Columbus GA, 31904. Telephone (678) 807-8400, FAX (706) 323-0178. http://www.BytewiseSensors.com
# # #