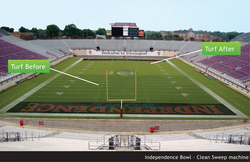 Austin, Texas (PRWEB) August 7, 2009
Hellas Construction has been installing turf systems in professional, college and high school stadiums for years. Recently, they created a solution for cleaning those fields and getting them ready for a year of romping, stomping sports action. The new company division is called Clean Sweep. Clean Sweep not only revitalizes synthetic turf fields, but also helps fields last longer and play up to their full potential.
There are several options within the Clean Sweep process: (1) A de-compactor runs across the field to loosen the infill, make the surface softer and help lift the turf fibers to stand up. (2) The Clean Sweep brush sweeps up loose rubber, broken fibers and particles and collects the debris to create a cleaner field. (3) An anti-microbial disinfectant spray can be applied to the turf--strong enough to kill the most dangerous viruses and bacteria, yet safe enough to be EPA-registered for use on children's toys. (4) A drag brush runs over the turf to give it a uniform, streak-free appearance. The revitalizing process can be applied to any synthetic field and takes a couple of days to complete.
The new Clean Sweep service is now offered nationwide by Hellas, just in time for this year's football season.
About Hellas Construction, Inc.
Headquartered in Austin, Texas, Hellas Construction is one of the largest sports and surfacing contractors in the United States. The company specializes in the general construction of sports facilities and synthetic turf installation. Current clients include the Alamodome in San Antonio, Northern Arizona University, University of Idaho, Texas Stadium, the new Dallas Cowboys stadium and numerous stadiums across the nation. For more information visit http://www.hellasconstruction.com.
# # #