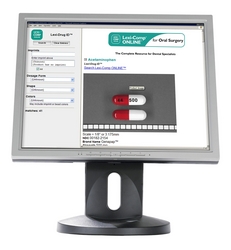 Hudson, OH (PRWEB) August 6, 2009
Lexi-Comp, Inc., the leading publisher of clinical resources for the dental market, has released Lexi-Comp® ONLINE™ for Oral Surgery, a customized Internet-based resource designed for oral surgery specialists. This robust reference provides the comprehensive pharmacology information and drug interaction screening required by clinicians performing complex surgical procedures, and administering or prescribing medications for sedation, pain management, and infection prevention. Lexi-Comp ONLINE for Oral Surgery is the only dental-specific pharmacology program available for dental specialists and their staff. This continually-updated resource can help elevate patient care, improve medication safety, and reduce liability risk.
Lexi-Comp ONLINE for Oral Surgery features Lexi-Drugs®, Lexi-Comp's core drug database enhanced with dental-specific fields of information, and Lexi-Interact™, providing in-depth analysis of possibly dangerous drug interactions and risk management guidelines for patients taking multiple medications. Instant dental alerts warn of medications that may influence treatment or have harmful effects on the patient. These key features allow clinicians to thoroughly review patient medication regimens to ensure safe treatment planning.
The package also offers access to clinical modules covering drug identification, patient care/education, and medical and dental calculations. Additional reference databases and topic areas include: Harrison's Practice (from the editors of Harrison's Principles of Internal Medicine), Infectious Diseases, Lab Tests and Diagnostic Procedures, Pharmacogenomics, Natural Products, Medical Emergencies, Office Finance, Clinical Dentistry, Oral Soft Tissue Diseases, Oral Hard Tissue Diseases, Periodontics, Dental Implants, and Endodontics. Thousands of detailed color photographs, drawings, and radiographs are included.
With a subscription, this valuable tool can be accessed from any computer with an Internet connection. Register for a free 30-day full access trial of Lexi-Comp ONLINE for Oral Surgery or call (866) 397-3433 for more information.
About Lexi-Comp Dental Solutions:
Lexi-Comp is the industry leader in providing clear, concise, dental-specific content at the point-of-care. The company's commitment to the dental profession is evident in its products and advanced technology, developed to help dental professionals increase efficiency, improve patient care, and avoid liability. An independent non-profit dental education and product testing foundation ranked Lexi-Comp® ONLINE™ for Dentistry as an outstanding product in the Education category of their December 2008 issue. A full report is available upon request. Lexi-Comp's dental information is available online, on handheld devices, and in printed handbooks. For further information on Lexi-Comp's Dental Solutions, visit http://www.lexi.com/dentistry or call (866) 397-3433.
About Lexi-Comp:
Lexi-Comp, Inc. is a leading provider of medical information and clinical content solutions for the healthcare industry. Lexi-Comp's content and technology provide relevant, timely information at the point-of-care in both in-patient and out-patient settings to help improve patient outcomes, workflow efficiency, and medication safety. Along with its leading drug database, Lexi-Drugs®, content areas include pediatric drug information, pharmacology, interactions, diagnostic procedures and laboratory tests, pharmacogenomics, poisoning and toxicology, dentistry, infectious diseases, and patient education. Over 500,000 clinicians worldwide access Lexi-Comp's information via the Internet, handheld devices, and through integration with health information systems. An extensive library of print titles is also available. To learn more about Lexi-Comp's medical information solutions, call 800.837.5394, 330.650.6506, or visit http://www.lexi.com.
###