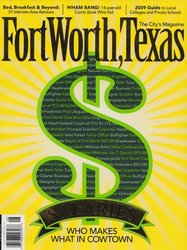 Ft. Worth, TX (PRWEB) August 7, 2009
Ft Worth Texas magazine August 2009 edition listed local dentists voted best in their specialty by their peers. For the second year in a row Dr Timothy Huckabee of Southlake was chosen Top Dentists in the category Cosmetic Dentistry.
Ft Worth Magazine wants to congratulate Dr. Huckabee on being voted as a Top Dentist in Cosmetic Dentistry. He is listed in our August issue (with the bright yellow cover) as being voted a Top Dentist by his peers.
Dr Timothy Huckabee is CEO and founder of Huckabee dental located in Southlake Texas.
Huckabee Dental is a unique Cosmetic, Implant and Family Practice under one roof. The dentists and staff are interested in your total satisfaction. Huckabee Dental consistently ranks in the top practices polls with both peers and patients.
Please visit dfwdental.com for more information.
###