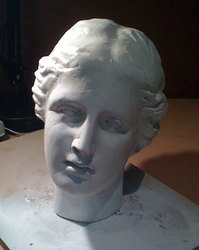 We've opened up a whole new dimension of possibilities for our customers with the STL Importer
Pasadena, Texas (PRWEB) August 12, 2009
Carving original 3-D patterns into wood just became a whole lot easier. LHR Technologies, Inc., developer of the CarveWright and CompuCarve Woodworking Systems®, is releasing its new STL Importer, a revolutionary addition to the CarveWright Project Designer software that allows 3-D models to be imported and digitally sliced into patterns that can be carved on both machines.
For CarveWright users, the ability to create original, full 3-D patterns has never been simpler. Using virtually any 3-D software, from the professional-quality AutoDesk® family of design software to free software packages such as Google SketchUp® or Blender®, users can create 3-D computer models and convert them to the common STL file format. The format was originally created for stereo lithography machines, which are essentially 3-D printers. It is a common file format and widely used for rapid prototyping and computer-aided manufacturing.
The CarveWright STL Importer Software allows users to import STL models, scale them, and slice them into sections the machine can carve. This slicing function allows the model and the slicing plane to be oriented in any direction and sliced at any depth, giving the user total control over how a model is cut apart to ensure efficient reassembly. Each slice is converted to a digital pattern and laid out on the project board to be carved on the CarveWright or CompuCarve. When completed, the carved pieces can be reassembled and finished as desired.
"We've opened up a whole new dimension of possibilities for our customers with the STL Importer," said Chris Lovchik, LHR co-founder and CEO. "Home users can take a 3-D model and fabricate it into a physical object that they can hold in their own hand! I look forward to seeing what projects our very creative customers come up with."
The STL Importer Software is a new addition to the CarveWright software's current import capabilities, which include scanning patterns using the Scanning Probe accessory and importing 2-D images such as photographs. The CarveWright STL Importer retails for $299 and is available as both an add-on to the CarveWright Designer Software or as a stand-alone program for use with other systems.
LHR Technologies' revolutionary carving system was first introduced through Sears in 2006 as the CompuCarve. The machine is now sold as both the Craftsman® CompuCarve at Sears and as the CarveWright® System through several leading woodworking and home improvement stores, including as Lowe's, WoodCraft Supply, Amazon.com, Northern Tool + Equipment, AAFES and select Ace stores. The machine is widely distributed to woodworking and technical educational programs throughout the country. It offers not only a small, compact and affordable alternative to computer numerically controlled (CNC) systems, but also an intuitive and user-friendly software package that LHR has continued to enhance into a robust, full-featured package. With software additions including Centerline Text, Pattern Editor and now the STL Importer, LHR's software suite keeps getting better.
Additional software features are currently under development at LHR Technologies. These include the ability to import DXF files, an advanced modeling tool set and compatibility with other CNC systems. High consumer demand for the powerful but easy-to-use CarveWright software has led to the opening of discussions with ShopBot Tools, Inc., regarding ways to bring about an exciting new combination of CarveWright software with the ShopBot family of CNC machines.
Users unfamiliar with 3-D design are encouraged to consult CarveWright Website for online videos and tutorials. LHR will also feature STL Tips & Tricks in its free monthly newsletters to provide ongoing support and education of its many CarveWright & CompuCarve customers.
About LHR Technologies, Inc.:
LHR Technologies Inc., a leader in woodworking tools innovation, was founded in 2001 by NASA robotics engineers who shared a passion for woodworking. With the goal to bring the art of woodworking into the next century, the company patented and distributed a revolutionary "quick changer" for handheld routers in 2003. The engineers used the same quick-changer concept to create the CarveWright Woodworking System. First introduced through Sears in November of 2006 as the CompuCarve Woodcarving System, it is driven by CarveWright software. The current CarveWright Woodworking System was released to market in the summer of 2007. For more information, visit CarveWright Website. Canadian customers should visit CarveWright Canada Website.
About ShopBot Tools, Inc.:
ShopBot Tools, based in Durham, N.C., designs and manufactures low-cost, high-value computer numerically controlled (CNC) cutting machines. ShopBot was founded by CEO Ted Hall, Ph.D., a Duke University professor of neuroscience, who developed the tool while building plywood boats as a hobby. After several years of development, the company began shipping tools in 1996. With more than 6,000 ShopBots in 54 countries, ShopBot is one of the largest producers of CNC routers for woodworking and plastics in North America. The company employs 25 people in the Durham, N.C., area. For more information, visit ShopBot Tools Website.
###