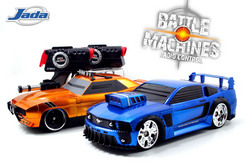 At Jada, Die Cast and Radio Control is our core business. When we saw the brilliance of combining laser and combat tag with radio control vehicles, we knew we had a winner
City of Industry, CA (PRWEB) August 7, 2009
Jada toys, Inc. unveils a brand new patent pending toy line, Battle Machines RC, securing retail placement in this uncertain economy by offering cutting edge interactive entertainment at affordable prices of uncommon value for products with this level of quality and innovation.
Battle Machines RC is the only toy line that combines thrilling action and hours of non-stop excitement of laser tag competition. Battle Machines RC brings freshness to traditional radio control action patterns. It combines laser combat tag, licensed and stylized vehicles in contemporary designs, video-game like explosive sound effects with lights, immobilization reactions, and verbal reaction. The built-in scorekeeping "Shield Level Indicators" bring extra excitement to this series of high performance vehicles. "At Jada, Die Cast and Radio Control is our core business. When we saw the brilliance of combining laser and combat tag with radio control vehicles, we knew we had a winner," said Bill Simons, SVP of Worldwide Sales.
Battle Machines RC has 3 different licensed vehicles to choose from, '06 Ford Mustang GT, '69 Chevy Camaro SS, and '99 Chevy Silverado Dooley. They are available in twin and single packs with 27MHz and 49MHz tri-bands allowing up to 6 vehicles to play at one time. The single packs come with a "Laser Scope" so a solo player can shoot a vehicle in auto pilot mode. In true Jada tradition, there is also an offering of 25 very special post-apocalyptic designs of die cast vehicles in 1:64, 1:32 and 1:24 scales. A national TV campaign for this highly anticipated toy line airs this fall. A $1000 prized "My Battle Faces" video contest is in promotion from now to end of 2009.
"The rise in interactive video game play for kids continues to evolve and Jada strives to stay on the forefront of this growth," said May Li, President of Jada Toys. "Battle Machines RC brings video game play patterns to the 3D world with the same amount of excitement and imagination that gamers craved at prices parents can afford and enjoy themselves."
These new products are rolling out now at Wal-Mart, Target, Toys-R-Us, Amazon.com, and other toy retailers nationwide. The suggested retail prices are Single-Pack at $29.99 and Twin-Pack at $49.99.
For more information about Battle Machines RC, Jada Toys and all its innovative toys please go to http://www.BattleMachinesRC.com or http://www.jadatoys.com.
Limited Media Packages with fact sheet, photo and video files are available upon request for media reporters.
About Jada Toys, Inc.
Now in its tenth year, Jada Toys, Inc. is a privately held; leading manufacturer of authentically licensed and highly stylized die-cast collectibles, radio control vehicles, and toys. Popular brands produced by Jada include DUB City, Big Time Muscle, NexGen Muscle, and High Profile. Jada has also acquired major toy licenses for top brands such as Marvel Entertainment, Guitar Hero, Speed Racer and Chop Socky Chooks. Jada Toys' products can be found in major retail and hobby stores worldwide.
# # #