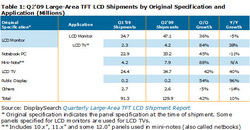 Austin, Texas (Vocus) August 7, 2009
Results of the DisplaySearch large-area (10" and larger) TFT LCD survey for Q2'09, as reported in its Quarterly Large-Area TFT LCD Shipment Report, indicate that shipments reached 130 million units, strong growth of 42% Q/Q and 10% Y/Y (see Table 1). Due to the increase in prices, large-area TFT LCD revenues grew 51% Q/Q, but were still down 29% Y/Y, to $15 billion. Strong market demand in Q2'09 led to a recovery in capacity utilization across all applications.
DisplaySearch also revealed details of its survey of panel makers' shipment targets for Q3'09 through Q2'10. Panel makers are increasing capacity utilization to respond to growing demand and targeting Q3'09 shipments of large-area TFT LCD panels of 152.8 million, up 18% from Q2'09 (see Table 2). If panel makers reach their unit shipment targets, revenue growth is expected to be 32% Q/Q.
In Q2'09, Samsung Electronics led in large-area TFT LCD panel revenues, with sales of $4.2 billion, a 27.8% revenue share, according to DisplaySearch findings. LG Display was second, with $3.7 billion in revenues and a 25% sales share. AUO was third at $2.3 billion with a 15.7% share, with CMO closely behind at 15.3% share.
In Q2'09, LG Display took first place in unit shipments, but Samsung shipped the most by area. On a unit basis, Korea was the largest supplier of large-area TFT LCD panels in Q2'09 with a 49.8% share, but was down from 52.2% in Q1'09 due to strong shipment growth of Taiwanese panel suppliers. Taiwan's share increased from 38.4% in Q1'09 to 41.2% in Q2'09. Table 3 shows the Q2'09 shipment ranking of large-area TFT LCD panels by original specification and application.
According to David Hsieh, Vice President of DisplaySearch, "We are forecasting that industry utilization will be 87% in Q3'09 due to growing orders. In Q2'09 the industry experienced a strong recovery, and shipments reached record highs. We expect that strong demand will push panel shipments to another record high in Q3'09. However, strong panel shipments in some cases are due to downstream players piling up inventory, so we believe it will be necessary to watch the supply chain inventory situation closely at the end of Q3'09."
For more information on the DisplaySearch Quarterly Large-Area TFT LCD Shipment Report, contact Charles Camaroto at 1.888.436.7673 or 1.516.625.2452, email contact at displaysearch dot com, or contact your regional DisplaySearch office in China, Japan, Korea or Taiwan.
About DisplaySearch
DisplaySearch, an NPD Group company, has a core team of 50 employees, located in Europe, North America and Asia, who produce a valued suite of FPD-related market forecasts, technology assessments, surveys, studies and analyses. Visit the DisplaySearch blog to read about how our top analysts are interpreting up-to-the-minute issues that impact the display industry, and join us in this discussion about technology and the flat panel industry. The company also organizes influential events worldwide. Headquartered in Austin, Texas, DisplaySearch has regional operations in Chicago, Houston, Kyoto, London, San Diego, San Jose, Seoul, Shenzhen, Taipei and Tokyo, and the company is on the web at http://www.displaysearch.com/.
About The NPD Group, Inc.
The NPD Group is the leading provider of reliable and comprehensive consumer and retail information for a wide range of industries. Today, more than 1,700 manufacturers, retailers, and service companies rely on NPD to help them drive critical business decisions at the global, national, and local market levels. NPD helps our clients to identify new business opportunities and guide product development, marketing, sales, merchandising, and other functions. Information is available for the following industry sectors: automotive, beauty, commercial technology, consumer technology, entertainment, fashion, food and beverage, foodservice, home, office supplies, software, sports, toys, and wireless. For more information, contact us or visit npd.com/ and npdgroupblog.com/. Follow us on Twitter: @npdtech and @npdgroup.
Follow DisplaySearch on Twitter @displaysearch.
Media Contact:
Stacey Voorhees-Harmon
Public Relations
Phone: 925-336-9592
###