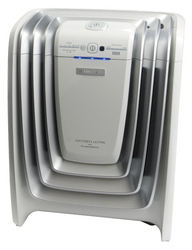 Indoor environmental quality is a growing priority among today's homeowners and Electrolux Central Vacuum Systems is committed to providing solutions that keep today's homes clean and healthy
Webster City, Iowa (PRWEB) August 7, 2009
Homeowners can enter a drawing to win a free Electrolux Oxygen™ Ultra Air Purification System valued at nearly $400 by simply describing how they clean their homes.
"Indoor environmental quality is a growing priority among today's homeowners and Electrolux Central Vacuum Systems is committed to providing solutions that keep today's homes clean and healthy," says Larry Hartley, vice president of sales and marketing.
Visitors to http://www.electroluxoxygen.net can click the "Tell Us How You Clean" box on the site's home page to enter the contest. To enter, a visitor simply needs to fill in the box with a description of their home cleaning routine and fill in contact information below. Information collected will be developed into a series of features showcasing innovative and effective home cleaning methods.
All complete entries will be entered into a drawing for the Oxygen Ultra Air Purification System that replaces indoor airborne particulates and odors with fresh, clean air. The lightweight, portable system offers three stages of filtration, including:

A carbon filter sheet that collects large particles including dust, hair and lint, as well as odors caused by cooking, tobacco smoke or organic decay.
A HEPA filter that traps 99.7 percent of particulates and impurities as small as 0.3 microns, including dust, pet dander, fine smoke particles as well as many types of viruses and bacteria; and
PlasmaWave™ technology that emulates the way nature cleans the air by neutralizing viruses, bacteria, chemical vapors and other odors, with no harmful side effects.
In addition to the Oxygen Ultra Air Purification System, http://www.electroluxoxygen.net also offers consumers a place to shop for Electrolux Oxygen Central Vacuum Systems and locate a trained central vacuum system installer. The sleek art deco style systems offer up to five times the cleaning power of a conventional vacuum to completely remove contacted dust and allergens from the living area. The superior cleaning power has been proven to relieve allergy symptoms by as much as 61 percent.
Electrolux Central Vacuum Systems is the world's leading producer and marketer of built-in central vacuums. The company's central vacuum and air purification systems are sold in 50 countries around the world. Electrolux Central Vacuum Systems is a division of Electrolux Home Care Products North America.
###