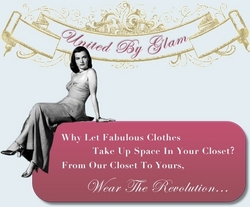 San Diego, CA (Vocus) August 6, 2009
WearableRevolution.com is community of women who are obsessed with fashion yet looking for ways to save money.
This unique website, recently launched by two young women, offers a revolutionary approach to shopping, providing an affordable and eco-conscious alternative. The online portal creates an environment for the trading of women's gently worn, non-damaged, clothing and accessories from every era, from vintage to modern -- making it possible for women to trade that little black dress for someone else's designer jeans! It's a new innovative concept to saving money and going-green!
Many women purchase an outfit to wear to an event, spending hundreds of dollars on it, and only wear it once! Some may feel that if friends and family have already seen the outfit and photographs were taken... then it's time to get something new. However, most women are unable to afford such a luxurious lifestyle, especially in this economic climate, and prefer a low-cost alternative.
WearableRevolution.com provides that low-cost alternative, while also providing a way for on-the-go women to locate unique products from other women's closets and shop from the comfort of their own home.
Within the fashion media, style is constantly evolving, and many women's size varies year to year. Ultimately an outfit is fated to collect dust in the back of a closet -- so why not trade the outfit for someone else's designer jeans?
The goal for WearableRevolution.com is to provide an online portal for the trading of women's gently worn, non-damaged, clothing and accessories from every era, from vintage to modern. They are seeking to create a community of fashionistas who'd love to wear a new outfit every day, without the guilt!
Wearable Revolution is creating a new paradigm. It enables women to shop 24/7 without using the printed dollar. They can dig through the wardrobes of women from around the world, while creating more space in their own closets!
Recycling clothing around the globe shows a sense of community, resourcefulness, and practicality that ought to be re-introduced into society -- especially during this economic climate. By bartering with other women, consumers are transcending back to a time where people can really cherish their tangible possessions, and pass them down and around through the generations. Fashion consciousness is being aware of what is being purchased and what is being worn.
The hope for Wearable Revolution is to spread the word of eco-consciousness through their love for fashion, asking women from around the globe to join the Revolution….
http://www.WearableRevolution.com
For more information, visit wearablerevolution.com.
ChicExecs PR is an "out of the box" PR company which represents over 70 clients. ChicExecs has created an innovative approach to PR dedicated to helping small-medium business receive media coverage. Our revolutionary automated system is changing the face of PR. To learn more about chicexecs visit http://www.chicexecs.com.
###