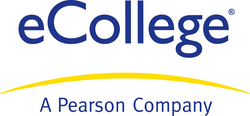 Denver, CO (PRWEB) August 5, 2009
Pearson eCollege today announced several new education partnerships with public, private and for-profit institutions that will deliver advanced teaching and learning experiences using Pearson eCollege's integrated education technology environment.
Pearson eCollege is the world's leading provider of online education technology, content solutions and support services at hundreds of successful blended and fully online academic programs and institutions. The company offers more than just a learning management system--Pearson eCollege combines on-demand cloud computing learning technologies with Pearson's world-class content, digital media and academic services.
"Our core mission at Pearson eCollege is the success of our educational partners," said Matt Leavy, CEO of Pearson eCollege. "These new partners join a growing family of fine institutions that benefit from our focus on driving teaching and learning success through the superior use of technology, assessment, content and services. Our new educational partners also show the broad range of institutions that benefit from Pearson eCollege's unique understanding of running successful online programs, from community colleges and research universities to private institutions and the largest online programs."
The new education partners are:

William Penn University, Oskaloosa, Iowa--William Penn University's College for Working Adults will use Pearson eCollege to create three new programs, including Human Resources, Criminal Justice and Master's in Business Leadership. The MBL program will use custom e-books created in partnership with individual instructors.
Sam Houston State University, Huntsville, Texas--Sam Houston State University chose the Pearson eCollege learning platform to quickly grow its online enrollments from 1,000 to 5,000, as well as to offer a new master's program in Criminal Justice.
Northwest Missouri State University, Maryville, Missouri--NMSU will upgrade from MyMathLab to MyMathLabPlus, an enhanced version of Pearson's award-winning, self-paced online learning solution supported by Pearson's learning platform. Pearson eCollege's client services team manages all of the day-to-day technical aspects of MyMathLabPlus, including the hardware, software and 24-7 help desk support.
Ex'pression College for Digital Arts, Emeryville, Calif.--Ex'pression College selected Pearson eCollege to manage the college's online course offerings. The institution offers accelerated bachelors degrees (just two-and-one-half years) in Animation and Visual Effects, Game Art; Design, Motion Graphic Design and Sound Arts.
Upper Iowa University, Fayette, Iowa--Upper Iowa University chose Pearson eCollege to manage its online learning program. The university will also begin using Pearson eCollege's advanced Academic Assessment Suite for tracking and monitoring program and student performance. The university currently uses Pearson's MyLabs products.
About Pearson eCollege
Pearson eCollege enables educators globally to achieve measurable success for online and blended academic programs and training through on-demand education solutions that advance and improve the teaching and learning experience for learners in multiple types of educational institutions and programs. Pearson eCollege provides a composable (SaaS) learning platform, academic services, rich content solutions and renowned multi-level user support that help students and teachers reach their academic goals. Pearson eCollege is the leading provider of technology and services to the top online schools and programs globally.
Contact: Susan Aspey, 800-745-8489
# # #