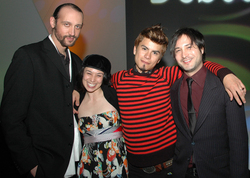 Fashion is a life force that flows through my veins
Los Angeles, CA (PRWEB) August 6, 2009
For the first time in its history, "Project Runway" will be set in Los Angeles on the beautiful campus of FIDM/ Fashion Institute of Design & Merchandising.
The sixth season of "Project Runway," which debuts on Lifetime, August 20th, 2009, is the latest installment of the Emmy-nominated reality program hosted and judged by supermodel, Heidi Klum. Other regular judges include noted fashion designer Michael Kors and Marie Claire's well-known fashion director, Nina Garcia. Fashion consultant and fan-favorite Tim Gunn stars as a part-time co-host, and mentor to the contestants.
In recognition of the Emmy-nominated series' arrival, FIDM is proud to roll out a new student blog initiative at its online home, FIDM.edu. Featuring real-life FIDM fashion design students, the purpose of the blog is to give fans an insight into the hearts and minds of aspiring fashion designers facing challenges like those seen on the show.
Going beyond the glitz and glamour of the fashion runway, the blog is designed to provide real-life insights into pursuing a fashion education. Students describe the value of earning a FIDM degree, their hopes and dreams for their future in fashion, and their daily triumphs at one of FIDM's four California campuses.
The inaugural student blog features FIDM fashion design major Michelle Smith, as she begins her exciting transition to college during her first year at FIDM Los Angeles. In the midst of the excitement surrounding "Project Runway," Smith is keenly aware of her educational mission at FIDM:
"Fashion is a life force that flows through my veins," she says. "Through dedication, hard work, and perseverance I expect to gain real knowledge of both the business and technical aspects of fashion. FIDM supplies the information and opportunities that I know I will need to be well prepared."
Smith also looks up to FIDM graduates like Johnny Sakalis, who is slated to rock the fashion runway in "Project Runway 6." Graduating from FIDM Los Angeles in 1999, he is the latest FIDM alumnus to find success on the hit show.
Sakalis follows in the footsteps of two of FIDM's most charismatic and high profile "Project Runway" veterans, Nick Verreos and Santino Rice. Stars of "Project Runway 2," the series' breakout second season, they rank among the show's most beloved and noteworthy contestants.
# # #