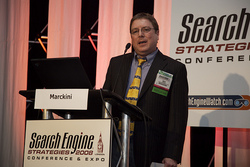 Is there a link between search and social.
New York, NY (PRWEB) August 6, 2009
Incisive Media today announced the appointment of Mike Grehan as VP and Global Content Director for Search Engine Watch (SEW), ClickZ, and Search Engine Strategies (SES). Grehan wrote the cover story for the July issue of SES Magazine, "Is there a link between search and social."
Matt McGowan, Vice President and Publisher for Incisive Media's Interactive Marketing Group, including SEW, ClickZ and SES, said, "Mike is a search and digital marketer - one of the big names in our space with a global reputation. He wrote one of the first books on search and has not let up since. Mike's addition definitely strengthens our already strong and noteworthy thought leadership."
McGowan added, "All our brands will as of now work together under one content team, led by Mike. We are not merging the brands, just organizing and planning as one instead of three. This will allow us to work as a team and to leverage all of our relationships across our entire business."
Grehan said, "I've been associated with Search Engine Strategies, Search Engine Watch and ClickZ, three mighty online brands, as contributor and speaker for many years. And I'm thrilled to be joining a team of such fabulously talented people full time. Each of the brands will maintain its own identity but be powered by a new uber team of specialists in the online marketing space. I see much opportunity for greater growth in the US. And even greater opportunities for new international markets."
Grehan added, "I've worked in a senior management capacity on the agency side of the business for a very long time. And now it's time for new challenges and new adventures. The interactive division of Incisive Media truly is a powerhouse in digital marketing and continues to go from strength to strength."
Come meet Mike at the upcoming Search Engine Strategies San Jose Conference and Expo, starting August 10th - 14th.
About Mike Grehan
Mike Grehan is a New York-based, international consultant who has been involved in online marketing since 1995 and is recognized as a leading search engine marketing expert. His knowledge of conventional marketing, combined with his technical skills and understanding of search engine algorithms has helped many top firms improve their visibility on search engines and directories.
Grehan is a highly sought-after search engine marketing speaker and has also written multiple books and white papers on the subject. His second edition of Search Engine Marketing: The Essential Best Practice Guide gained plaudits from numerous industry authorities. He writes as an expert for ClickZ.com, and his own personal newsletter is read by over 17,000 international subscribers. In 2004, Grehan was named by E-consultancy as one of the U.K.'s top 100 influential people in Internet marketing.
About Incisive Media
Incisive Media is a leading global provider of specialized business news and information, in print, in person and online. The company's principal markets include financial services, legal services, commercial real estate, marketing services and risk management. Incisive Media's market-leading brands include Accountancy Age, Computing, Investment Week, Legal Week, LegalTech, Post, Real Estate Forum, Risk, Search Engine Strategies and The American Lawyer. For more information, visit http://www.incisivemedia.com.
Incisive Media's Search Engine Strategies is a leading global conference and training series focused on search engine optimization and search engine marketing. Other Incisive resources for interactive marketers include the ClickZ network for digital marketing news, information, commentary, advice, opinion and research and Search Engine Watch which provides news and information about search, analysis of the search engine industry and tools for improving search marketing effectiveness.
# # #