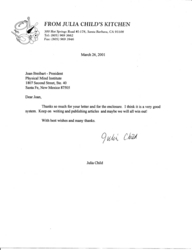 Thanks so much for your letter and for the enclosure. I think it is a very good system. Keep on writing and publishing articles and maybe we will all win out!
New York, NY (PRWEB) August 6, 2009
If someone told dieters that they could lose weight without counting points, eliminating "bad" foods, downing gallons of water a day or staying on a "maintenance plan" for life, what would happen? Well, that's been the Diet Directives message for nearly 30 years, and while the plan hasn't caught on like its mass-market corporate competitors, those who have tried it report fantastic results - especially with losing inches! An affordable ($50) weight loss regimen that promises to save you hundreds - if not thousands - in grocery bills by helping you to retrain your stomach (and your perception), so that you're satisfied with less, Diet Directives teaches an old message from a new perspective. And while the food giants and restaurant chains who bank on our desire to graze all day long, ingesting super-size portions to increase their bottom line may be opposed, in this economy, the idea of losing weight while saving money is finally catching on!
According to co-founder Breibart however (herself an icon in the Pilates industry and President of the PhysicalMind Institute), the plan may never have come this far - to a practical, accessible and occasionally entertaining web-based program with a rapidly increasing client base - if it weren't for some words of encouragement she received from Julia Child in 2001.
Frustrated by our buy-eat-buy-eat culture and the rapidly declining popularity of Diet Directives' message of moderation, Breibart saw Child being grilled about good and bad foods, steak vs. vegetables and the evils of butter on Larry King Live, where the famed "French Chef" remained undaunted. Like the founders of Diet Directives, she subscribed to an eating philosophy wherein all foods should be enjoyed in reasonable portions, despite the fact that our culture had long abandoned the notion. Inspired, Breibart sent Child a note - with a copy of the Diet Directives plan for advice. Two months later, she received a personal response.
"Thanks so much for your letter and for the enclosure. I think it is a very good system. Keep on writing and publishing articles and maybe we will all win out!"
Keep trying Breibart did. In the eight years since her correspondence with Julia Child, she has persevered in her efforts to take the Diet Directives to a wider audience, where it can really make a difference. Now, as with all things, everything old has become new again… And with Julia Child making headlines again as the inspiration for half of the movie Julie & Julia, Breibart is hoping that this time, her message - one she shared with the culinary legend - will stick!
DietDirectives.com was re-launched in July with a new design, additional features and a streamlined instructional plan available via email.
Retrain your stomach, de-stress your mind and activate your teeth with Diet Directives! To learn how you can eat less and not be hungry or to read today's most popular diet myths debunked visit Diet Directives online!
# # #